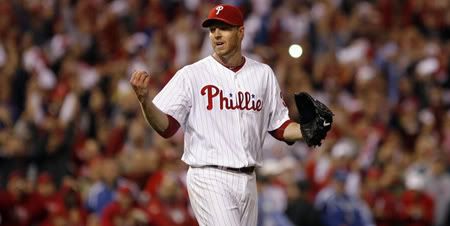 Roy Halladay went to the National League and the Philadelphia Phillies in search of his first trip to the postseason in his career. With the Toronto Blue Jays, he had never been there. He had won a Cy Young Award though with the Jays back in 2003. But that was the American League.
Now Halladay can call himself a Cy Young Award winner in the NL as he was the unanimous pick by the Baseball Writers' Association of America (BBWAA). Doc now joins Gaylord Perry, Pedro Martinez, Roger Clemens and Randy Johnson as the only pitchers to win a Cy Young in both leagues.
Halladay went 21-10 with a 2.44 ERA in 33 starts for the Phillies in 2010. Besides leading the league in wins, he also led in complete games (nine), shutouts (four) and innings pitched (250 2/3).
Doc was also the 20th person in MLB history to throw a perfect game which came in late May against the Florida Marlins in Miami. And while the voting had already happened, Halladay also went out threw a no-hitter in his first career postseason start against the Cincinnati Reds.
Next up in the awards from the BBWAA will be the AL & NL Manager of the Year awards which will be announced on Wednesday afternoon.
A full look at the NL Cy Young Award voting totals can be found by clicking on the read more button below.
National League Cy Young
Name
1st
2nd
3rd
4th
5th
Total
Roy Halladay, Phillies

32

–

–

–

–

224

Adam Wainwright, Cardinals

–

28

3

–

1

122

Ubaldo Jimenez, Rockies

–

4

19

8

1

90

Tim Hudson, Braves

–

–

3

13

4

39

Josh Johnson, Marlins

–

–

5

5

9

34

Roy Oswalt, Astros/Phillies

–

–

1

3

5

14

Brian Wilson, Giants

–

–

–

1

5

7

Heath Bell, Padres

–

–

1

–

1

4

Mat Latos, Padres

–

–

–

1

2

4

Brett Myers, Astros

–

–

–

1

–

2

Tim Lincecum, Giants

–

–

–

–

2

2

Bronson Arroyo, Reds

–

–

–

–

1

1

Matt Cain, Giants

–

–

–

–

1

1
Photo credit: Reuters Pictures