Welcome to the Gigantic Sox and Dawgs 2012 MLB preview. Over the next week you will get a team by team look at its key players, new faces, their potential MVP, Cy Young and Rookie of the Year candidates, their possible starting lineup and rotation as well as a quick summary.
For the second year in a row we will select a MVP candidate and Cy Young candidate for each team no matter what their predicted team outcome is.
This preview was sculpted over a two month period in the off season with some mild tweaking as we went along prior to publication. It comes from a culmination of reading many baseball magazines, periodicals, articles and websites.
I hope you enjoy this look at the upcoming season. I know everyone will not agree with me and that's fine put it in the comments or hit me up on Twitter. I can assure you I'll most likely have an argument for each and every objection that you could possibly raise. It was a lot of work but a lot of fun compiling this preview and starting today we will take a look at the National League West. The rest of the schedule follows with a different division being profiled each day and the final day will bring you my winners, my award selections and a list of managers who have a lot to prove in 2012 if they want to be on the bench in 2013.
Tomorrow you will get the American League West preview followed by the NL Central, AL Central, NL East and AL East.
To continue reading, click on the read more button below if you're on the home page.
National League West

1. San Francisco – Manager Bruce Bochy (6th year/18th overall)
You could almost list the entire Giants lineup as "key players" as they each need to have a good year for the team to succeed. The starting rotation once again looks really solid and should help carry the team which at times will have problems scoring runs. But when you team the rotation up with the back end of the bullpen and closer Brian Wilson they will be in most games and once again contend for the division title.
Key Players: 1B Brandon Belt; C Buster Posey; SS Brandon Crawford; P Tim Lincecum
MVP Candidate: C Buster Posey
Cy Young Candidate: P Tim Lincecum
ROY Candidate: OF Gary Brown
Key Additions: CF Melky Cabrera (Trade-KC); OF Angel Pagan (Trade-NYM); RP Takashi Saito (FA-MIL); INF Ryan Theriot (FA-STL); RP Clay Hensley (FA-MIA)
Possible lineup: Cabrera CF; Sanchez 2B; Sandoval 3B; Posey C; Huff LF; Schierholtz RF; Belt 1B; Crawford SS
Possible rotation: Lincecum; Cain; Bumgarner; Volgelsong; Zito

2. Arizona – Manager Kirk Gibson (3rd year)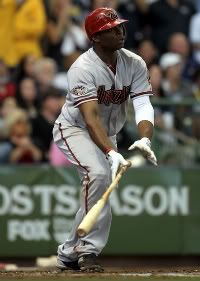 The Arizona Diamondbacks are looking to go back to the playoffs again after winning the division last year in Kirk Gibson's first full season as manager. Justin Upton, Miguel Montero and Paul Goldschmidt form a formidable 3-4-5 in the middle of the lineup while Daniel Hudson and Ian Kennedy form a nice 1-2 starting punch while newly acquired Trevor Cahill adds some rotation depth.
Key Players: RF Justin Upton; 1B Paul Goldschmidt; LF Jason Kubel; CF Chris Young; P Ian Kennedy
MVP Candidate: RF Justin Upton
Cy Young Candidate: P Ian Kennedy
ROY Candidate: P Tyler Skaggs
Key Additions: SP Trevor Cahill (Trade-OAK); RP Craig Breslow (Trade-OAK); OF Jason Kubel (FA-MIN); RP Takashi Saito (FA-MIL)
Possible lineup: Drew SS; Hill 2B; Upton RF; M. Montero C; Goldschmidt 1B; Kubel LF; Young CF; Roberts 3B;
Possible rotation: Kennedy; Hudson; Cahill; Saunders; Collmenter

3. Colorado – Manager Jim Tracy (4th year/11th overall)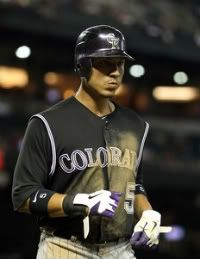 Lots of new faces in the Rocky Mountains as Dan O'Dowd went about business this winter reshaping the roster. Trades with the Angels, Cubs, Rangers, Orioles and Red Sox brought in more depth and he followed that up with some free agents, C Ramon Hernandez and OF Michael Cuddyer. It looks like a possible three team race with Colorado challenging San Francisco and Arizona for the division title.
Key Players: LF Carlos Gonzalez; SS Troy Tulowitzki; RF Michael Cuddyer; P Jorge De La Rosa; P Tyler Chatwood
MVP Candidate: LF Carlos Gonzalez
Cy Young Candidate: P Jorge De La Rosa
ROY Candidate: 3B Nolan Arenado
Key Additions: SP Tyler Chatwood (Trade-LAA); C Ramon Hernandez (FA-CIN); OF Tyler Colvin (Trade-CHI); INF DJ LeMahieu (Trade-CHI); OF Michael Cuddyer (FA-MIN); 3B Casey Blake (FA-LAD); INF Chad Tracy (Trade-TEX): INF Marco Scutaro (Trade-BOS); SP Jamie Moyer (FA-PHI); P Guillermo Moscoso (Trade-OAK); P Josh Outman (Trade-OAK); P Jeremy Guthrie (Trade-BALT)
Possible lineup: Fowler CF; Scutaro 2B; Gonzalez LF; Tulowitzki SS; Helton1B; Cuddyer RF; Hernandez C; Blake 3B
Possible rotation: Chacin; Guthrie; Chatwood; Moscoso; Moyer

4. Los Angeles – Manager Don Mattingly (2nd year)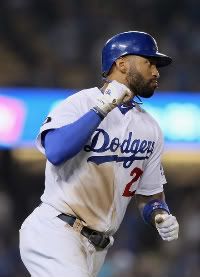 The Dodgers are still in a mass state of confusion as they await the sale of the team to someone who will hopefully restore the luster to this once proud franchise. Manager Don Mattingly will be looking for some production from leadoff man Dee Gordon and the back end of the rotation in free agent pick ups Aaron Harang and Chris Capuano. Rookie C Tim Federowicz I expect will see significant playing time to see if he is the everyday answer behind the plate.
Key Players: SS Dee Gordon; CF Matt Kemp; C Tim Federowicz; P Clayton Kershaw; P Aaron Harang; P Chris Capuano
MVP Candidate: CF Matt Kemp
Cy Young Candidate: P Clayton Kershaw
ROY Candidate: C Tim Federowicz
Key Additions: IF Jerry Hairston (FA-MIL); SP Chris Capuano (FA-NYM); SP Aaron Harang (FA-SD); RP Alberto Castillo (FA-ARI); C Tim Federowicz (Rookie); C Matt Treanor (FA-TEX); 2B Mark Ellis (FA-COL)
Possible lineup: Gordon SS; M. Ellis 2B; Kemp CF; Either RF; Loney 1B; Rivera LF; Uribe 3B; Federowicz C
Possible rotation: Kershaw; Lilly; Billingsley; Harang; Capuano;

5. San Diego – Manager Bud Black (6th year)
The Padres should once again struggle to get to .500 this season, they'll have trouble scoring runs as the only real bopper is newly acquired RF Carlos Quentin. With a new general manager it will be interesting to see if Bud Black can survive the year or does Josh Byrnes want his own guy in charge?
Key Players: SS Jason Bartlett; 1B Yonder Alonso; RF Carlos Quentin; P Edinson Volquez; RP Huston Street
MVP Candidate: RF Carlos Quentin
Cy Young Candidate: P Edinson Volquez
ROY Candidate: 1B Yonder Alonso
Key Additions: RP Huston Street (Trade-COL); C John Baker (Trade-MIA); SP Edinson Volquez (Trade-CIN); 1B Yonder Alonso (Trade-CIN/Rookie); RF Carlos Quentin (Trade-CWS); 1B Mark Kotsay (FA-MIL); P Micah Owings (FA-ARI)
Possible lineup: Venable LF; Bartlett SS; Headley 3B; Quentin RF; Alonso 1B; Maybin CF; Hudson 2B; Hudley C
Possible rotation: Stauffer; Volquez; Richard; Luebke; Mosely
Tomorrow: The American League West
Follow Steve on Twitter @SteveMichaelsII
Photo credits: Getty Images, Getty Images, Getty Images, Getty Images, AP Photo