Welcome to the Gigantic Sox and Dawgs 2012 MLB preview. Over the next few days you will get a team by team look at its key players, new faces, their potential MVP, Cy Young and Rookie of the Year candidates, their possible starting lineup and rotation as well as a quick summary.
For the second year in a row we will select a MVP candidate and Cy Young candidate for each team no matter what their predicted team outcome is.
This preview was sculpted over a two month period in the off season with some mild tweaking as we went along prior to publication. It comes from a culmination of reading many baseball magazines, periodicals, articles and websites.
I hope you enjoy this look at the upcoming season. I know everyone will not agree with me and that's fine put it in the comments or hit me up on Twitter. I can assure you I'll most likely have an argument for each and every objection that you could possibly raise.
Yesterday we looked at the AL Central, Sunday was the NL West, Monday was the AL West, Tuesday we previewed the NL Central and today it's the NL East.
To continue reading, click on the read more button below if you're on the home page.
National League East

1. Philadelphia – Manager Charlie Manuel (8th year/11th overall)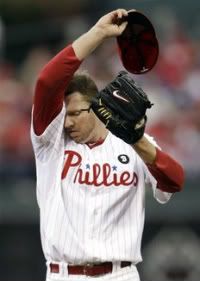 The Philadelphia Phillies will remain the class of the NL East in 2012 as they look to get to their third World Series in the last five seasons under skipper Charlie Manuel. They have possibly the best pitching staff in baseball and got even better in the back end when they signed free agent closer Jonathan Papelbon away from Boston. Even with the possible loss of 1B Ryan Howard for the beginning of the season they should be able to stay on top as long as his replacements Jim Thome and Ty Wigginton can carry their part of the load. They will continue to battle not only Atlanta but also a much improved and refocused Miami for the AL East crown.
Key Players: SS Jimmy Rollins; 2B Chase Utley; RF Hunter Pence; P Roy Halladay; P Cliff Lee; RP Jonathan Papelbon
MVP Candidate: 2B Chase Utley
Cy Young Candidate: P Roy Halladay and P Cliff Lee
ROY Candidate: OF Domonic Brown
Key Additions: RP Jonathan Papelbon (FA-BOS); 3B/OF Ty Wigginton (Trade-COL); 1B/PH Jim Thome (FA-CLE); OF Laynce Nix (FA-WAS); P Dontrelle Willis (FA-CIN); OF Juan Pierre (FA-CWS); OF Scott Podsednik (FA-KC); RP Chad Qualls (FA-SD)
*Possible lineup: Rollins SS; Utley 2B; Victorino CF; Pence RF; Polanco 3B; Thome 1B; Mayberry LF; Ruiz C
Possible lineup: Rollins SS; Utley 2B; Pence RF; Howard 1B; Victorino CF; Polanco 3B; Mayberry LF; Ruiz C
Possible rotation: Halladay, Lee; Hamels; Worley; Blanton
*- lineup with 1B Ryan Howard on DL to start season.
2. Atlanta – Manager Fredi Gonzalez (2nd year/6th overall)
The Atlanta Braves tried to hang with Philadelphia last year and with all their injuries and players having down years they just couldn't do it. But they were in position for the NL Wild Card until they had the biggest late season fade this side of Boston. They ended up missing the playoffs on the last day when the eventual World Series champion St. Louis swooped in on the last day of the season to claim the wild card spot. The Braves need better seasons from Dan Uggla and Jason Heyward to compete with Philly and Miami. This is a strong team and the division looks to be a dog fight until the end even with P Tim Hudson possibly missing the first month as he recovers from off season surgery.
Key Players: C Brian McCann; RF Jason Heyward; 3B Chipper Jones; 2B Dan Uggla; SS Tyler Pastornicky; P Tim Hudson; RP Johnny Venters
MVP Candidate: C Brian McCann
Cy Young Candidate: P Tim Hudson
ROY Candidate: SS Tyler Pastornicky and P Julio Teheran
Key Additions: OF Matt Diaz (FA-PIT); P Julio Teheran (Rookie); SS Tyler Pastornicky (Rookie); RP Dustin Richardson (FA-MIA)
Possible lineup: Bourn CF; Prado LF; Jones 3B; McCann C; Uggla 2B; Heyward RF; Freeman 1B; Pastornicky SS
Possible rotation: Hudson; Jurrjens; Hansen; Beachy; Teheran
*Possible rotation: Jurrjens; Hansen; Beachy; Teheran; Minor
* – possible rotation with Hudson on DL in first month

3. Miami – Manager Ozzie Guillen (1st year/9th overall)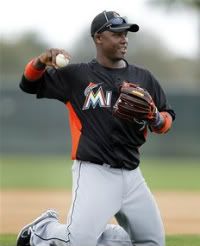 New name, new logo, new stadium, new colors, new uni's, new manager and new players. A quote from my twitter feed asked, "Are the Marlins robbing banks?" They don't appear to be but owner Jeff Loria decided to open up the wallet and he has spent big time. The new manager Ozzie Guillen didn't come cheap, then they signed free agent SS Jose Reyes, closer Heath Bell and starter Mark Buehrle. These guys are additions to Hanley Ramirez, who will move to 3B, Gaby Sanchez, Mike Stanton and Josh Johnson. All of a sudden Miami is loaded with a lot of horses and will contend for the division title/NL Wild Card in 2012.
Key Players: SS Jose Reyes; 3B Hanley Ramirez; RF Mike Stanton; LF Logan Morrison; P Josh Johnson; P Mark Buehrle; RP Heath Bell
MVP Candidate: SS Jose Reyes
Cy Young Candidate: P Josh Johnson and P Mark Buehrle
ROY Candidate: P Alex Sanabia
Key Additions: SS Jose Reyes (FA-NYM); RP Heath Bell (FA-SD); RP Wade LeBlanc (Trade-SD); SP Mark Buehrle (FA-CWS); OF Aaron Rowand (FA-SF); SP Carlos Zambrano (Trade- CHI); OF Austin Kearns (FA-CLE); Mgr. Ozzie Guillen
Possible lineup: Reyes SS; Bonafacio CF; Ramirez 3B; Stanton RF; Morrison LF; G. Sanchez 1B; Buck C; Infante 2B
Possible rotation: Johnson; Buehrle; Zambrano; Nolasco; A. Sanchez

4. Washington – Manager Davey Johnson (2nd year/16th overall)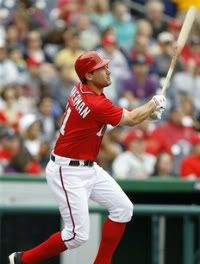 The Washington Nationals are looking to make some noise but it still may be another year or two away. Davey Johnson starts his first full season as the manager after he took over on June 25 when Jim Riggleman resigned unexpectedly two days earlier. The Nats beefed up their rotation with a trade for Gio Gonzalez from Oakland and by adding free agent Edwin Jackson. They also expect to have a 100% healthy Stephen Strasburg for the entire season and possibly another 1st pick in LF Bryce Harper could be with the big club right out of camp. Also C Wilson Ramos returns after a harrowing off-season in which he was kidnapped in Central America.
Key Players: SS Ian Desmond; 3B Ryan Zimmerman; RF Jayson Werth; P Stephen Strasburg; P Gio Gonzalez; RP Drew Storen
MVP Candidate: RF Jayson Werth
Cy Young Candidate: P Stephen Strasburg
ROY Candidate: LF Bryce Harper
Key Additions: LF Bryce Harper (Rookie); SP Gio Gonzalez (Trade-OAK); INF/OF Mark DeRosa (FA-SF); RP Brad Lidge (FA-PHI); 2B Andres Blanco (FA-TEX); P Edwin Jackson (FA-STL)
Possible lineup: Desmond SS; Bernadina CF; R. Zimmerman 3B; Morse LF; Werth RF; LaRoche 1B; Espinosa 2B; Ramos C
Possible rotation: Strasburg; Gonzalez; Jackson; J. Zimmerman; Wang

5. New York – Manager: Terry Collins (2nd year/ 8th overall)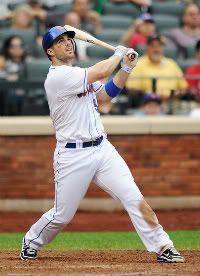 In the wake of the Bernie Madoff disaster the Mets at one point were looking for someone to buy into the team. After not being able to attract a minority buyer in time the Mets turned to Bank of America for a $40 million dollar bridge loan until they can sell some minority shares plus they've already borrowed $25 million from MLB that they haven't been able to re-pay. Then they failed to retain free agent SS Jose Reyes who bolted to division rival Miami after New York never even made their former star player an offer. So if the Mets are borrowing money to survive, even with a brand new stadium, how are they supposed to compete in the NL East with Philadelphia, Miami and Atlanta and an improving Washington? It will be a long season again in Queens. 1986 was a long time ago.
Key Players: 3B David Wright; 1B Ike Davis; LF Jason Bay; P Johan Santana
MVP Candidate: 3B David Wright
Cy Young Candidate: P Johan Santana
ROY Candidate: P Matt Harvey
Key Additions: RP Jon Rauch (FA-TOR); RP Ramon Ramirez (Trade-SF); OF Andres Torres (Trade-SF); RP Frank Francisco (FA-TOR); P Matt Harvey (Rookie); SS Ronny Cedeno (FA-PIT)
Possible lineup: Torres CF; Tejada 2B; Wright 3B; Davis 1B; Bay LF; Duda RF; Thole C; Cedeno SS
Possible rotation: Santana; Pelfrey; Neise; Gee; Harvey
Tomorrow, in Day 6, we will preview the AL East.
Follow Steve on Twitter @SteveMichaelsII
Photo credits: AP Photo, Getty Images, AP Photo, AP Photo, Getty Images