Welcome to the Gigantic Sox and Dawgs 2012 MLB preview. Over the next few days you will get a team by team look at its key players, new faces, their potential MVP, Cy Young and Rookie of the Year candidates, their possible starting lineup and rotation as well as a quick summary.
For the second year in a row we will select a MVP candidate and Cy Young candidate for each team no matter what their predicted team outcome is.
This preview was sculpted over a two month period in the off season with some mild tweaking as we went along prior to publication. It comes from a culmination of reading many baseball magazines, periodicals, articles and websites.
I hope you enjoy this look at the upcoming season. I know everyone will not agree with me and that's fine put it in the comments or hit me up on Twitter. I can assure you I'll most likely have an argument for each and every objection that you could possibly raise.
Yesterday we looked at the NL East, Sunday was the NL West, Monday was the AL West, Tuesday we previewed the NL Central, Wednesday we took a trip around the AL Central and today it's the AL East.
To continue reading, click on the read more button below if you're on the home page.
American League East
1. Tampa Bay – Manager Joe Maddon (7th year/9th overall)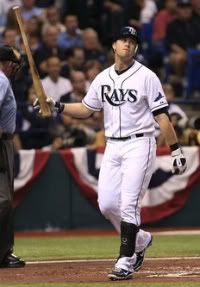 Joe Maddon was the AL Manager of the Year and it was well deserved. After being stripped of a lot of his talent from the 2010 team, he was able to get the 2011 team to play together and make the playoffs for the 3rd time in 4 seasons. They overcame a substantial deficit in the last month to earn a post season slot on the seasons final day when Boston finished off it's full collapse. The Rays have a solid starting rotation and really good everyday lineup and they are my pick to win the division in 2012.
Key Players: LF Desmond Jennings; CF B.J. Upton; 3B Evan Longoria; RF Matthew Joyce; P David Price; P James Shields; P Matt Moore
MVP Candidate: 3B Evan Longoria
Cy Young Candidate: P David Price
ROY Candidate: P Matt Moore
Key Additions: C Jose Molina (FA-TOR); RP Josh Lueke (Trade-SEA); RP Burke Badenhop (Trade-MIA); RP Fernando Rodney (FA-LAA); 1B/OF Luke Scott (FA-BALT); 1B Carlos Pena (FA-CHI); INF Jeff Keppinger (FA-SF); P Matt Moore (Rookie)
Possible lineup: Jennings LF; Upton CF; Longoria 3B; Pena 1B; Zobrist 2B; Scott DH; Joyce RF; Brignac SS; Molina C
Possible rotation: Price; Shields; Moore; Hellickson; Davis
2. New York – Manager Joe Girardi (5th year/8th overall)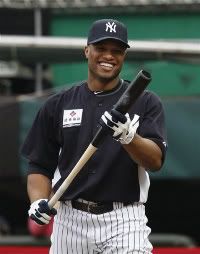 The New York Yankees came up short last year losing in the ALDS to the Detroit Tigers. To remedy that, this off season they did manage to get SP C.C. Sabathia to sign a nice little 5-year contract extension that should help feed him through the remainder of the decade. Then on the same day in mid January they signed free agent lefty Hiroki Kuroda and traded C Jesus Montero to Seattle for P Michael Pineda. Not bad for a days work after a relatively quiet off season. They also dumped A.J Burnett but at a heavy cost of including $20 million in the deal with Pittsburgh and then they turned around and signed Raul Ibanez for cheap to be the DH.
Key Players: CF Curtis Granderson; 2B Robinson Cano; 1B Mark Teixeira; 3B Alex Rodriguez; SS Derek Jeter; P CC Sabathia; P Ivan Nova
MVP Candidate: 2B Robinson Cano
Cy Young Candidate: P CC Sabathia
ROY Candidate: P Manny Banuelos
Key Additions: SP Michael Pineda (Trade-SEA); SP Hiroki Kuroda (FA-LAD); OF/DH Raul Ibanez (FA-PHI); RP David Aardsma (FA-SEA)
Possible lineup: Jeter SS, Granderson CF; Cano 2B; Teixeira 1B; Rodriguez 3B; Swisher RF; Ibanez DH; Martin C; Gardner LF
Possible rotation: Sabathia; Pineda; Kuroda; Nova; Hughes

3. Boston – Manager Bobby Valentine (1st year/16th overall)
After the biggest late season collapse in baseball history there are some new faces in Boston. Gone are long-time manager Terry Francona to ESPN and general manager Theo Epstein who became the President of the Chicago Cubs. In their places are former Epstein right hand man Ben Cherington who assumes the role of Executive Vice President/General Manager and Connecticut native Bobby Valentine who comes from ESPN's Sunday Night Baseball to be the new field manager.
We all know the story of how Valentine came to be the new manager of the Red Sox but it's probably a situation that he will thrive in. A former Los Angeles Dodgers draft pick, after a MLB playing career, he has gone on to manage almost 2,200 MLB games in 15 seasons. He will bring more situational play to the team and more structure. Some players will thrive under Valentine, while others will drown and it will be with the survivors that Bobby V will go to war with.
There's a slight chance Carl Crawford won't be ready for opening day after minor wrist surgery in mid-January.
Key Players: CF Jacoby Ellsbury; LF Carl Crawford; P Clay Buchholz; P Daniel Bard; P Alfredo Aceves; RP Andrew Bailey
MVP Candidate: 1B Adrian Gonzalez
Cy Young Candidate: P Jon Lester
ROY Candidate: RF Ryan Kalish and C Ryan Lavarnway
Key Additions: RF Ryan Kalish (Rookie); C Ryan Lavarnway (Rookie); C Kelly Shoppach (FA-TB); RP Mark Melancon (Trade-HOU); INF Nick Punto (FA-STL); RP Andrew Bailey (Trade-OAK); OF Ryan Sweeney (Trade-OAK); SP Clayton Mortensen (Trade-COL); OF Cody Ross (FA-SF); SP Aaron Cook (FA-COL); P Vicente Padilla (FA-LAD); Mgr. Bobby Valentine
Possible lineup: Ellsbury CF; Crawford LF; Gonzalez 1B; Youkilis 3B; Ortiz DH; Pedroia 2B; Ross RF; Saltalamacchia C; Aviles SS
Possible rotation: Beckett; Lester; Buchholz; Aceves; Bard
4. Toronto – Manager: John Farrell (2nd year)
John Farrell had a very good first season as the Toronto manager and it didn't hurt to have Jose Bautista blasting balls into the stratosphere either. The Blue Jays finished fourth in the AL East in 2011 and hey should repeat that finish again this season.
Key Players: LF Jose Baustista; CF Colby Rasmus; RF Ben Francisco; 2B Luis Valbuena; P Ricky Romero; RP Francisco Cordero
MVP Candidate: LF Jose Bautista
Cy Young Candidate: P Ricky Romero
ROY Candidate: RP Joel Carreno
Key Additions: C Jeff Mathis (Trade-LAA); 2B Luis Valbuena (Trade-CLE); OF Ben Francisco (Trade-PHI); RP Jason Frasor (Trade-CWS); RP Darren Oliver (FA-TEX); SP/RP Aaron Laffey (FA-KC); INF Omar Vizquel (FA-CWS); RP Francisco Cordero (FA-CIN); SP/RP Rick VandenHurk (FA-BALT)
Possible lineup: Escobar SS; Rasmus CF; Bautista LF; Lind 1B; Encarnacion DH; Lawrie 3B; Francisco RF; Valbuena 2B; Arencibia C
Possible rotation: Romero; Morrow; Cecil; Alvarez; McGowan

5. Baltimore – Manager: Buck Showalter (3rd year/14th overall)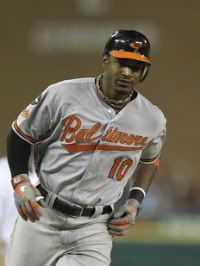 Baltimore joins Boston as an AL East team with a front office change and in a surprise of surprises they hired former Boston and Montreal GM Dan Duquette as their new general manager. Duquette is expected to work hand in hand with manager Buck Showalter in putting together a team to compete in the division without breaking the bank in the mold of division rival Tampa Bay. They have a good base to work with in RF Nick Markakis, C Matt Wieters and CF Adam Jones but the weakness the last several seasons for the O's has been pitching and Duquette has a lot of work to do in getting that in line. They also need 2B Brian Roberts to stay on the field. if he can't Robert Andino goes to 2B and rookie Manny Machado takes over at SS.
Key Players: RF Nick Markakis; CF Adam Jones; C Matt Wieters; 3B J.J. Hardy; P Jason Hammel; P Jake Arrieta
MVP Candidate: CF Adam Jones
Cy Young Candidate: Jason Hammel
ROY Candidate: SS Manny Machado and P Robert Bundy
Key Additions: C Taylor Teagarden (Trade-TEX); RP Darren O'Day (Waivers-TEX); P Dana Eveland (Trade-LAD); OF Endy Chavez (FA-TEX); SP Wei-yin Chen (FA-Korea); INF/DH Wilson Betemit (FA-DET); P Armando Galarraga (FA-ARI); RP Pat Neshek (FA-SD); RP Dennys Reyes (FA-BOS); P Jason Hammel (Trade-COL); P Matt Lindstrom (Trade-COL)
Possible lineup: Roberts 2B; Markakis RF; Jones CF; Reynolds 1B; Weiters C; Davis DH; Hardy 3B; Reimold LF; Andino SS
Possible rotation: Hammel; Arrieta; Britton; Matusz; Eveland
Tomorrow, in our final day, we will look at the big winners in 2012..
Follow Steve on Twitter @SteveMichaelsII
Photo credits: AP Photo, AP Photo, AP Photo, Getty Images, Getty Images