If Sunday's opener was any indication, it looks like it's going to be a fun and exciting season in the women's college basketball capital of the world.
Playing without their All-American guard Bria Hartley, the No. 2/2 UConn Huskies women's basketball team had six players in double figures as they went on to an easy 103-39 win over the College of the Charleston Cougars in front of 6,221 at Gampel Pavilion in Storrs, CT.
UConn starts the season 1-0 while the College of Charleston drops to 1-1.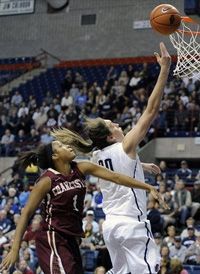 Freshman Breanna Stewart led the way for the Huskies with 21 points and had five rebounds and four steals. Kaleena Mosqueda-Lewis added 19 points, eight rebounds, four assists and five steals while freshman Morgan Tuck had 15 points, six rebounds and four assists in her debut.
Stefanie Dolson had 11 points and a game-high nine rebounds and eight assists while both Caroline Doty and Brianna Banks both chipped in with 10 points.
Alyssa Frye paced the Cougars with 14 points while Latisha Harris had 13 points. Afreyea Tolbert was the other member of the College of Charleston in double digits with 10 points and led them with five rebounds.
UConn is back in action next Sunday afternoon when they travel to College Station, TX for a matchup with the Texas A&M Aggies. Tip is scheduled for 2:30 p.m.
College of Charleston Cougars @ UConn Huskies 11.11.12 box score
Here are the postgame quotes from UConn head coach Geno Auriemma as well as some of his players.
Follow Ian on Twitter @soxanddawgs. And be sure to like us on Facebook as well.
photo credit: ap photo