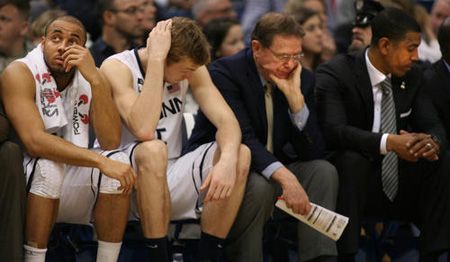 Coming off such an emotional win over Syracuse earlier in the week, you had to hope the UConn Huskies men's basketball team wouldn't suffer a letdown on Saturday afternoon.
Unforunately that as well as a good game plan from the Villanova Wildcats shutting down UConn's guards happened.
Ryan Arcidianco led Villanova with 25 points, including five three-pointers, as they went on to beat UConn 70-61 in front of 15,165 and a nationally-televised audience on ESPN at the XL Center in Hartford, CT.
The Huskies fall to 17-7 (7-5 Big East) while the Wildcats improve to 16-10 (7-6).
Omar Calhoun led UConn with 16 points, including 9-of-9 from the charity stripe and six rebounds. DeAndre Daniels added 13 points while Niels Giffey came off the bench to score 11 points.
Shabazz Napier battled foul trouble in the first half and tight defense from Villanova the whole game and finished with just two points. However, he did have 10 assists. Ryan Boatright was also a victim of the Wildcats defense and had four points.
Joining Arcidianco in double figures was JayVaughn Pinkston who had 14 points and nine rebounds while James Bell had 11 points. Mouphtaou Yarou finished with a double-double of 11 points and 16 rebounds.
UConn found themselves down early with Napier in foul trouble as Villanova went on an 11-0 run. UConn followed with a 10-2 run, including two straight threes from lightly used Leon Tolksdorf to take the lead. The Wildcats battled back and kept it close trailing by only three points att the half.
Villanova kept the game within reach early in the second half before going on an 11-0 run to take a 52-45 lead. The Huskies would get as close as two points the rest of the way. The Wildcats would put the game away late with 13-0 run.
Obviously the emotional letdown was only a part of the reason why the Huskies lost. Frankly it was the guard play of Napier and Boatright.
While Napier did distribute the ball well, him and Boatright couldn't get anything done offensively scoring wise. It's also the first time the Huskies have seen man-to-man defense in a while and that played a huge part because the Villanova players were stuck on the duo like a fly on a fly trap.
UConn had relied on them all season and have had others step up. And while Calhoun, Daniels and Giffey did, it wasn't enough for the Huskies.
UConn is back in action in on Thursday when they'll play their final regular season game at the XL Center. They'll host the Cincinnati Bearcats with tip-off being scheduled for 7 p.m.
To continue reading, please click on the continue reading button below if you're on the home page.
Villanova Wildcats @ UConn Huskies 2.16.13 box score
Here are the postgame quotes from UConn head coach Kevin Ollie.
Here are UConn's postgame notes.
Follow Ian on Twitter @soxanddawgs. And be sure to like us on Facebook as well.
photo credits: michael mcandrews – hartford courant (no. 11 in gallery)