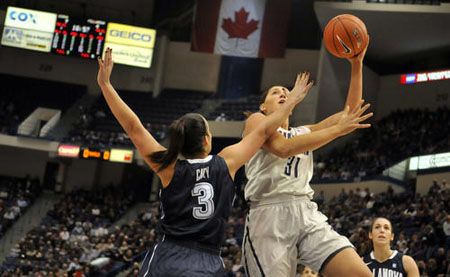 Two things are guaranteed when you play Harry Perretta's Villanova Wildcats women's basketball team.
One, you can expect them to use the entire shot clock. Two, you can expect to shoot a ton of three-pointers. One way to counteract that though is get out to a quick fast start against them.
But when you're the UConn Huskies and capable of big runs, you can stop Perretta's game plan.
And that's exactly what the UConn women did as they went on an early big run in the first half and never looked back in a 76-43 win over the Wildcats in front of 10,324 at the XL Center in Hartford, CT on Tuesday night.
With the win, the Huskies improve to 19-1 (6-1 Big East). The Wildcats fall to 16-4 (5-2).
Stefanie Dolson led the way for UConn with 20 points and eight rebounds. Kaleena-Mosqueda Lewis added 19 points and a team-high five assists while freshman phenom Breanna Stewart had 14 points, six rebounds and three blocked shots.
Kelly Faris had another nice all around game with six points, eight rebounds and four assists.
Caroline Doty's high school teammate Jesse Carey led Villanova with nine points and five rebounds. Emily Leer added eight points.
Dolson is turning into an absolute weapon for the Huskies. Not only can she dominate inside, she can shoot the ball pretty well from the outside. She's even increased her range adding a three-point shot to her arsenal. She reminds of Rebecca Lobo in her prime.
The UConn women return to action on Saturday afternoon when they head to New York City to take on the St. John's Red Storm. Tip is scheduled for 2 p.m.
To continue reading, please click on the continue reading button below if you're on the home page.
Villanova Wildcats @ UConn Huskies 1.29.13 box score
Here are the postgame quotes from UConn head coach Geno Auriemma.
Here are UConn's postgame notes.
Follow Ian on Twitter @soxanddawgs. And be sure to like us on Facebook as well.
photo credit: mark mirko – hartford courant (no. 9 in gallery)