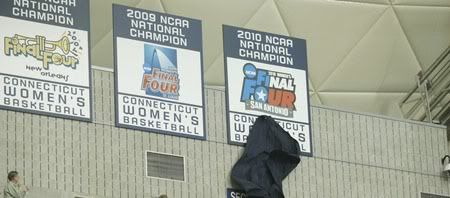 The UConn Huskies women's basketball put the 2009-10 NCAA Championship season behind them with the unveiling of the championship banner before their game against Holy Cross Crusaders. And then despite five freshman on the team, it didn't look like they missed a beat.
Tiffany Hayes scored a career-high 32 points, including 30 in the first half, as the No. 1 Huskies rolled to a very easy 117-37 win over the Crusaders in front of a Sunday afternoon crowd of 7,153 at Gampel Pavilion on campus in Storrs, CT.
It's the first win of the 2010-11 season for UConn and it extends their NCAA women's record winning streak to 79 games. The Crusaders fall to 0-2 on the young season.
All told, there were five Huskies in double figures and all ten players scored.
Hayes came out firing three pointers on her way to a 30 point first half, which matched the Crusaders' first half total. She finished with the career-high 32 points to go along with five rebounds and two assists. Maya Moore got off to a slow start but finished with 21 points, six rebounds, seven assists and three steals.
Freshman Bria Hartley had a sparkling debut as she had 18 points, three rebounds and four assists. Kelly Faris chipped in with 15 points, a game-high nine rebounds and seven assists while Samarie Walker's debut saw her score 12 points and pull down six rebounds.
Holy Cross was led by Alex Smith who had 12 points to go along with three assists. Brisje Malone added eight points while Whitney Fremeau had seven points. Alyssa May led Holy Cross with four rebounds.
Hayes got things going for the Huskies by opening up the game with two three-pointers that were part of a 13-2 run to open up the game. With the Huskies leading by 20 at 32-12, the Crusaders went on a 9-2 run to cut the lead to 34-21. They wouldn't get any closer than that the rest of the game as the Huskies closed out the first half on 29-9 run to take a 63-30 lead into the locker rooms.
It was more of the same for the Huskies in the second half as they shot 61.8% after shooting 69.7% in the first half. UConn would outscore Holy Cross 54-7 in the second half.
It was a good win to start the season but you know that head coach Geno Auriemma will find something wrong with their performance. It's still early in the season but the freshman, especially Hartley and Walker were impressive. The Huskies will need them to continue to grow as the season goes as they look for their third straight national title.
UConn will put it's No. 1 ranking and 79-game winning streak on the line Tuesday night when the No. 2 Baylor Bears come to the XL Center in Hartford, CT. The game will start at 6 p.m. and be televised nationally on ESPN2.
If you're on the home page, hit the read more button below to keep reading.
Notes and musings:
Holy Cross @ UConn Huskies 11.14.10 box score
Here are some quotes from UConn head coach Geno Auriemma, Tiffany Hayes, Maya Moore, Kelly Faris and Holy Cross head coach Bill Gibbons.

The starters for UConn were Lorin Dixon, Tiffany Hayes, Kelly Faris, Maya Moore and Heather Buck. I'd have to think this was Geno's reward to them for winning the 2010 National Championship.
With her 21 points, Maya Moore moved into second place all-time on the UConn career scoring list (2,189). She needs just 157 points to pass Tina Charles (2,346) for first place.
The 80 point margin of victory tied the second highest in program history. The highest is 97 which came against Quinnipiac on December 27, 1998.
The 117 points scored also tied their third-best in program history. They scored 117 against Quinnipiac on December 27, 1998.
UConn is 29-8 in regular season openers and 32-5 in home openers.
The Huskies shot 65.7% (44-of-67) from the floor while Holy Cross shot just 26.9% (14-of-52).
UConn also had 30 assists on their 44 made baskets.
UConn was 9-of-21 (42.9%) from three-point land.
The Huskies were 20-of-24 (83.3%) from the free throw line.
UConn outrebounded Holy Cross 48-16.
The Huskies had 33 points off 18 Holy Cross turnovers. UConn made eight turnovers which the Crusaders converted into 10 points.
UConn had 26 second-chance points.
Photo credits: Hartford Courant (No. 15), AP Photo