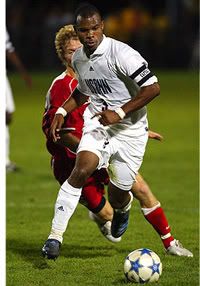 The 2008 MLS SuperDraft was held in Baltimore, MD this afternoon and another UConn soccer player will be seen in the MLS next season. The Toronto FC drafted UConn Huskies defender Julius James with the 9th pick in the draft. James had been expected to be one of the top picks of the draft but fell into the lap of Toronto FC.
James had a brilliant career at UConn, anchoring one of the top defenses in all of Division I. During his time at UConn, James was a two-time First Team All-American (2006, 2007), 3-time All-Big East First Team (2005, 2006, 2007), 3-time NSCAA First Team All Northeast (2007, 2006, 2005) and 3-time Big East Defender of the Year (2007, 2006, 2005). James also played and started in all 87 games of his career in Storrs, scoring 8 goals and had 1 assist.
James joins former UConn Huskies Shavar Thomas (Chivas USA), Bobby Rhine (FC Dallas), Mpho Moloi (Houston Dynamo), Chris Gbandi (FC Dallas) and Willis Forko (Real Salt Lake) in MLS.
Update: Ryan Cordeiro was drafted in the 3rd round (33rd overall) by DC United.