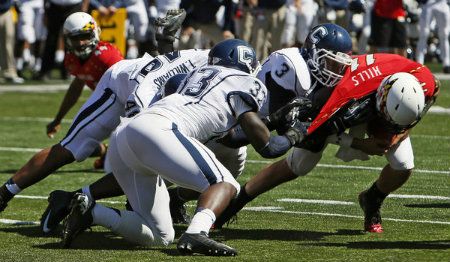 Through the first two games of the season, we've seen how good the UConn Huskies defense is. On the other hand, the offense has been so-so.
But when a big offensive drive was needed on Saturday afternoon, the UConn offense came up with a big score as the defense held off the Maryland Terrapins late to win 24-21 in the Edsall Bowl at Capital One Field at Byrd Stadium.
With the win, the Huskies improve to 2-1 on the young season with former UConn head coach Randy Edsall's squad also at 2-1.
Maryland had just cut the score in the game to 17-14 early in the 4th quarter when the offense decided it would move the ball. They ended up going 76 yards on 10 plays eating up just over six minutes on the clock as well. UConn also did it mostly with the wildcat something us fans would rather not see.
But we know for a fact that Edsall coached teams have struggled with running quarterbacks so it was nice to see that hasn't changed. The big play of the drive though was a third down conversion by John Delahunt on an 18-yard pass from Chandler Whitmer that gave the Huskies life on the drive.
Scott McCummings followed that up with runs of 21 yards and eight yards to set up Lyle McCombs for what turned out to be the winning touchdown of the game on an 11-yard scamper into the end zone.
Early on, the Huskies couldn't mount any offense. They were able to run the ball effectively but when it came to passing downs they couldn't do much. But it was nice to see the offensive line get a little more push on a strong Maryland front, something we really haven't seen so far this season.
The first UConn touchdown of the game almost wasn't to be.
In the first quarter, Maryland punted the ball to Nick Williams who was going to let the ball roll. But it took a bounce right into his hands and he decided to run with it. He ended up bringing it back 58 yards for the first touchdown of the game.
Thankfully the defense came to play again. Folks, they are as advertised.
With UConn unable to do anything on the offensive side, Maryland wasn't either as the D kept shutting down their run game. And when the Terps tried to pass they D put a ton of pressure on freshman quarterback Perry Hills.
It seemed like Huskies linebackers Yawin Smallwood and Sio Moore were everywhere on defense today. Honestly, I swear you heard their name called on just about every defensive play. Obviously that wasn't the case but Smallwood did finish with 14 tackles and had three sacks along with a forced fumble. Four of his tackles went for a total loss of 20 yards.
All told besides Smallwood's three sacks, the UConn D finished with seven sacks on the afternoon. Moore added three while Trevardo Williams had the other.
The UConn defense also held Maryland to just 203 total yards of offense. Of course the Huskies weren't much better with just 223.
While publicly the players didn't say they were out for revenge on their head coach, the play, at least defensively showed it. And after the win, it'll be nice move on from all the talk about the former UConn head coach.
Offensively, this team is far from being good. They are only going to be able to rely on the defense for so long. Sure they came up with a big drive when it was needed but why can't they do it on a consistent basis.
It's partially because of the Wildcat since it doesn't allow Whitmer to get into a flow. So why not just go exclusively Wildcat and throw some teams off.
Just throwing that out there for y'all to mull over.
The Huskies will probably be out for revenge again next week as they'll take on the Western Michigan Broncos. The Broncos came into Rentschler Field last year and beat UConn 38-31.
Scoring:

| | | | | | |
| --- | --- | --- | --- | --- | --- |
| Team | 1st | 2nd | 3rd | 4th | Final |
| UConn Huskies | 7 | 7 | 3 | 7 | 24 |
| Maryland Terrapins | 0 | 0 | 7 | 14 | 21 |
1st quarter
CON – 07:05 – Nick Williams 58 Yd Punt Return (Chad Christen Kick)
2nd quarter
CON – 12:35 – Scott McCummings 3 Yd Run (Chad Christen Kick)
3rd quarter
MD – 10:24 – Wes Brown 19 Yd Run (Brad Craddock Kick)
CON – 03:29 – Chad Christen 34 Yd
4th quarter
MD – 14:07 – Stefon Diggs 29 Yd Pass From Perry Hills (Brad Craddock Kick)
CON – 08:04 – Lyle McCombs 11 Yd Run (Chad Christen Kick)
MD – 04:39 – Perry Hills 10 Yd Run (Brad Craddock Kick)
To continue reading, the UConn Huskies @ Maryland Terrapins recap, click on the read more button below if you're on the home page.
Offensive Player of the Game:
With only 223 yards of total offense, it's hard to pick someone. But I'm going to go with Scott McCummings who came up big on the winning drive. He finished the game with eight carries for 44 yards and a touchdown. He also completed his only pass for two yards.
Defensive Player of the Game:
Who else but Yawin Smallwood again. Smallwood led the Huskies with 14 tackles (8 solo, 6 assisted). Four of those tackles went for a total loss of 20 yards and he also forced a fumble and had three sacks.
Turning Point(s) of the Game:
After Maryland scored to make it 17-14 UConn, the Huskies offense drove the ball 76 yards on 10 plays for a touchdown to put the Huskies in line for a win.
The UConn defense stood tall holding Maryland to -7 yards on the final drive of the game that pushed them out of field goal range and forced them to throw a hail mary that didn't work out.
Offensive Notes:
Chandler Whitmer was 10-of-16 for just 68 yards. He also had four rushes for 26 yards but did have one fumble. He was only sacked once in the game. Scott McCummings completed his only pass for two yards and had eight carries for 44 yards and a touchdown. Lyle McCombs failed to break 100 yards again but did finish with 94 yards and a touchdown. His three catches went for -6 yards. John Delahunt led all UConn receivers with 46 yards on three catches including a big 18-yarder on the winning drive. Michael Smith had two catches for 18 yards.
Defensive Notes:

Yawin Smallwood led the Huskies with 14 tackles (8 solo, 6 assisted). Four of those tackles went for a total loss of 20 yards and he also forced a fumble and had three sacks. Sio Moore had seven tackles (5 solo, 2 assisted) and three sacks. His three sacks went for a total loss of 10 yards and he also had two pass breakups. Jory Johnson added seven tackles while Ryan Wirth added six tackles. Trevardo Williams had the other sack for the Huskies to go along with four tackles. Dwayne Gratz made two tackles and also had an interception. Angelo Pruitt picked up the fumble recovery on the forced fumble by Smallwood.
Special Teams Notes:
Nick Williams had two punt returns for 60 yards, including a 58-yarder for a touchdown. It was his first career punt return for a TD. He also had two kickoff returns for 52 yards. Taylor Mack had two kickoff returns for 38 yards. Chad Christen missed his first field goal of the year from 49 yards but he did connect on a 34 yarder. Two of Christen's five kickoffs went for touchbacks. Cole Wagner averaged 44.6 yards on seven punts with two of them downed inside the 20.
Injuries:
Jesse Joseph injured his achilles and it's not known how severe the injury is
RG Adam Masters missed the game as a case of the flu is running through the team. Sio Moore and Dwayne Gratz were also battling the flu but managed to play.
Blidi-Wreh Wilson missed the game with a hamstring injury.
Officials:
Referee: Todd LaPenta; Umpire: Greg Brenner; Linesman: Kavin McGrath; Line judge: Jim Casey; Back judge: Paul Vargo; Field judge: Glenn Crowther; Side judge: Jeremy Lomax
Game Notes:
UConn Huskies @ Maryland Terrapins 9.15.12 box score
Here are the postgame quotes from UConn head coach Paul Pasqualoni and Maryland head coach Randy Edsall as well as players from both teams.
Here are the starters for the Huskies
OFFENSE
LT 72 Bennett, Jimmy
LG 69 Greene, Steve
C 73 Mateas, Alex
RG 65 Cruz, Gus
RT 77 Friend, Kevin
TE 94 Griffin, Ryan
QB 10 WHITMER, Chandler
TB 43 McCombs, Lyle
WR 31 Williams, Nick
WR 85 Davis, Geremy
WR 8 PHILLIPS, Shakim
DEFENSE
DE 48 WILLIAMS, Trevardo
DT 53 Wirth, Ryan
DE 91 Joseph, Jesse
OLB 3 Moore, Sio
ILB 33 SMALLWOOD, Yawin
ILB 28 Johnson, Jory
DB 22 Adams, Andrew
CB 29 Mack, Taylor
S 16 Jones, Byron
S 15 Brown, Ty-Meer
CB 7 Gratz, Dwayne
Here are the game notes from UConn Sports Information:
The win gives the Huskies a record of 5-11 all-time against ACC schools.
The Connecticut defense recorded six sacks in the contest, and held Maryland to just 205 total yards of offense.
Senior wide receiver Nick Williams' 58-yard punt return for a touchdown in the first quarter was a career-long and his first for a touchdown in his career. He also has two kickoff returns for scores at Connecticut.
Redshirt sophomore running back Lyle McCombs scored on an 11-yard touchdown run midway in the fourth quarter. It was his third rushing touchdown of the season and 10th of his career. He finished with a season-high 94 rushing yards.
Redshirt senior cornerback Dwayne Gratz' interception in the first quarter was his seventh career pick, and his second of the season.
Redshirt senior linebacker Sio Moore registered had his 2.5 sacks in the game. He now has 3.5 on the season and 12.5 in his career. He also had two pass breakups.
Redshirt sophomore linebacker Yawin Smallwood had 1.5 sacks in the first half and another in the third quarter forcing a fumble, giving him 4 for the season and 6 for his career. He led the Huskies with 14 tackles and 3.5 tackles for loss.
Senior defensive end Trevardo Williams recorded another sack in the third quarter. He now has 4.5 this season and 24.5 for his career.
Redshirt sophomore defensive tackle Angelo Pruitt recovered the fumble caused by the Smallwood sack. It was his first fumble recovery of his career.
The Huskies held the Terps scoreless in the first quarter, continuing their streak of not allowing a point in the first quarter this season. In addition, the Huskies have allowed just three first quarter first downs this season.
Sophomore quarterback Scott McCummings scored early in the second quarter on a three-yard run. It was his second rushing score of 2012, and the seventh he's had at Connecticut. He finished with a season-high 44 rushing yards.
McCummings also threw his first pass of the season; a 2-yard completion to redshirt senior tight end Ryan Griffen.
Redshirt sophomore quarterback Chandler Whitmer had a 23-yard scramble in the first quarter, the longest run of his career.
Whitmer completed seven-of-10 pass attempts in the opening half, while McCombs had 65 yards on 19 carries in the first half. He finished 10-for-16 for 68 yards with no interceptions.
Redshirt junior punter Cole Wagner's first punt of 37 yards was downed at the Maryland 3, his fifth inside-the-20 of the season. His 49-yard punt in the third quarter tied his season-long.
Redshirt senior tight end John Delahunt registered a 19-yard catch in the second quarter, matching his season-long.
When Maryland's Wes Brown scampered in from the 19-yard line in the second quarter, it marked the first rushing touchdown allowed by Connecticut this season.
Redshirt junior placekicker Chad Christen had his first career missed field goal when his 49-yard attempt in the second quarter was wide right. He had made his first three attempts of his career against Massachusetts on August 30. He later made a 34-yarder in the third quarter.
The contest marked just the second time the two schools played in the sport of football, the first since 1942.
Big East Games and Results:
Thursday, September 13

Rutgers 23
South Florida 13
Saturday, September 15
(13) Virginia Tech 17
Pittsburgh 35
North Carolina
Louisville, 3:30 p.m.
Stony Brook
Syracuse, 4 p.m.
Delaware State
Cincinnati, 7 p.m.
Things to Work On:
Get healthy. Obviously with the flu bug going around, you want to see it run its course quickly.
Offensively, they need to figure something out. As I said before the defense can take them so far.
Up Next:
UConn stays on the road as they head to Kalamazoo, MI for a matchup next Saturday with the Western Michigan Broncos at 2 p.m.

Follow Ian on Twitter @soxanddawgs. And be sure to like us on Facebook as well.

Photo credit: us presswire (no. 18 in gallery), ap photo