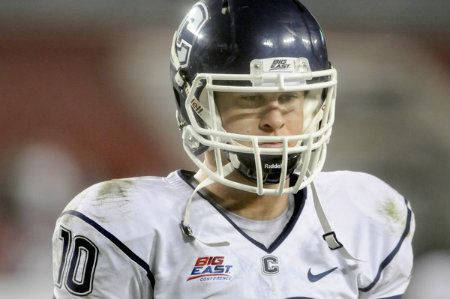 The UConn Huskies essentially had two weeks to prepare for the South Florida Bulls. Two weeks folks. Two freaking weeks.
You would think with that long of time to prepare for USF that UConn might be able to score a touchdown or two.
Well that didn't happen as all they managed was two measely field goals in a 13-6 loss to the Bulls in front of 36,190 and nationally televised audience on ESPNU at Raymond James Stadium in Tampa, FL on Saturday night.
With the loss, UConn falls to 3-6 (0-4 Big East) while the Bulls improve to 3-6 (1-4 Big East). For UConn to become bowl-eligble they need to win their final three games which includes matchups with Louisville and Cincinnati. In other words, feel free to make travel plans for a vacation that doesn't involve UConn playing in a bowl game (I hear Florida is nice in the winter).
Where do you want me to start?
Honestly, until the 4th quarter, I thought Chandler Whitmer played great. Then he made two bad decisions and those two bad plays cost UConn the game.
Other than the one drive in which B.J. Daniels scored on a 5-yard run that capped off an 80-yard drive in the first quarter, the Huskies defense was outstanding.
The problem once again was the offensive line when it came to run blocking. Of course it could also boil down to the play calling.
We've seen all year that UConn hasn't been able to run up the middle. So what does offensive coordinator George DeLeone call? Run plays up the middle of course.
And with the offensive line getting absolutely no push, the Huskies couldn't accomplish anything on the ground. I will give them props though as they did a pretty good job of giving Whitmer time to throw the ball. However they did allow him to be sacked four times (one of them coming on a bad snap).
I'm not sure if a coaching change will do any good for this team. At the very least, they need to do something with DeLeone. Look I know they're working with what they have as some if not most of these guys are that head coach in Maryland's guys.
UConn has a talented bunch of receivers and Whitmer has been doing a decent job of getting them the ball. If the play calling changes in the running game and the O line can execute their run blocks, this team could be a whole better than their record.
But at this point in the season, it doesn't matter. All they can do is hopefully get better for next year because the offense is going to need to be outstanding with a good portion of the defense graduating after this season.
I don't know what else to say. I really don't.
Like you, I'm at a loss for words about this Huskies team.
Scoring:
| | | | | | |
| --- | --- | --- | --- | --- | --- |
| Team | 1st | 2nd | 3rd | 4th | Final |
| UConn Huskies | 0 | 3 | 3 | 0 | 6 |
| South Florida Bulls | 7 | 0 | 0 | 6 | 13 |
1st quarter
USF – 04:08 - B.J. Daniels 5 Yd Run (Maikon Bonani Kick)
2nd quarter
CON - 00:02 – Chad Christen 50 Yd Field Goal
3rd quarter
CON - 04:28 – Chad Christen 37 Yd Field Goal
4th quarter
USF – 07:53 – Maikon Bonani 28 Yd Field Goal
USF - 04:26 – Maikon Bonani 50 Yd Field Goal
To continue reading, the UConn Huskies @ South Florida Bulls recap, click on the read more button below if you're on the home page.
Offensive Player of the Game: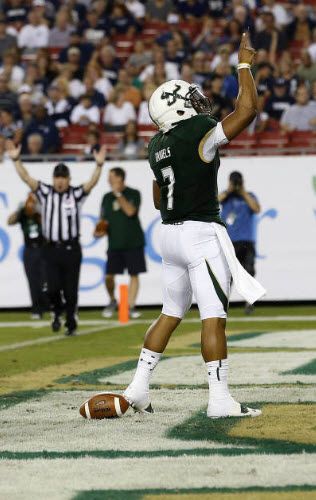 USF quarterback B.J. Daniels ran for 23 yards and the game's only touchdown. He also threw for 199 yards with an interception before leaving the game with a knee injury.
Defensive Players of the Game:
Tough call here as I have two in mind. I'll give it to both Tashon Whitehurt and Jon Lejiste. Whitehurt had eight tackles with one sack and one fumble recovery. Lejiste only had two tackles but had a huge interception in the 4th quarter.
Turning Point(s) of the Game:
To me I thought the Lyle McCombs fumble at the 11:43 mark of the 4th quarter was a huge turning point. USF recovered it at UConn's 38 and ended up settling for a field goal that made it 10-6.
On UConn's next drive, Chandler Whitmer was picked off by USF at their 10 and it was returned 29 yards. Tack on two personal fouls and USF started their next drive at UConn's 36 where they settled for a 50-yard field goal.
With UConn driving down the field late in the game, USF picked off Whitmer again at their 23 to end the game.
Take your pick folks. Those were the three key moments that more than likely cost UConn the game.
Offensive Notes:
Chandler Whitmer was 24-of-38 for 284 yards but threw two huge interceptions. Because of sacks, Whitmer was credited with -37 yards rushing. Lyle McCombs had 18 rushes for 47 yards and three catches for 28 yards. He also had a costly fumble Scott McCummings had five rushes for 33 yards. Geremy Davis had seven catches for 98 yards while Nick Williams had six catches for 48 yards.
Defensive Notes:
Byron Jones had nine tackles to lead the Huskies. He also had a pass breakup. Blidi Wreh-Wilson added seven tackles while Yawin Smallwood had six tackles and a pass breakup. Dwayne Gratz, Sio Moore and Jory Johnson all had five tackles. Ryan Wirth, Tim Willman and Trevardo Williams all had sacks. For Williams, the sack gives him the most in UConn football history.
Special Teams Notes:
Chad Christen made both of his field goals (50, 38). Of his three kickoffs in the game, one of them was a touchback. Cole Wagner averaged 42.5 yards on six punts. Two of them were downed inside the 20 while one went for a touchback. UConn had no kickoff or punt return yards in the game.
Injuries:
Tyler Bullock suffered a leg injury in the 4th quarter.
South Florida QB B.J. Daniels suffered an ankle injury and didn't return to the game.
Officials:
Referee: Jeff Maconaghy • Umpire: Richard Feeney • Linesman: Kavin McGrath • Line judge: Tod Reese • Back judge: Jonah Monroe • Field judge: Tony Tarantini • Side judge: Mark Windham
Game Notes:
UConn Huskies @ South Florida Bulls 11.3.12 box score
Here are the postgame quotes from UConn head coach Paul Pasqualoni (will be added when they become available) and USF head coach Skip Holtz (video).
UConn linebacker Sio Moore was benched for the first quarter of the game as discipline for an altercation with UConn's team doctor at the end of the loss to Syracuse two weeks ago.
Here are UConn's starters:
| | | |
| --- | --- | --- |
| Pos | | Offense |
| WR | 6 | Smith, Michael |
| LT | 72 | Bennett, Jimmy |
| LG | 69 | Greene, Steve |
| C | 50 | Bullock, Tyler |
| RG | 65 | Cruz, Gus |
| RT | 77 | Friend, Kevin |
| TE | 89 | Delahunt, John |
| WR | 85 | Davis, Geremy |
| QB | 10 | Whitmer, Chandler |
| TB | 43 | McCombs, Lyle |
| FB | 47 | Frank, Reuben |
| | | |
| --- | --- | --- |
| Pos | | Defense |
| DE | 48 | Williams, Trevardo |
| DT | 53 | Wirth, Ryan |
| DT | 59 | Stephen, Shamar |
| DE | 56 | Pruitt, Angelo |
| OLB | 3 | Moore, Sio |
| ILB | 33 | Smallwood, Yawin |
| ILB | 28 | Johnson, Jory |
| CB | 5 | Wreh-Wilson, Blidi |
| S | 16 | Jones, Byron |
| S | 15 | Brown, Ty-Meer |
| CB | 7 | Gratz, Dwayne |
Here are USF's postgame notes.
Big East Games and Results:
Saturday, November 3
Temple 17
(10) Louisville 45
Syracuse 24
Cincinnati 35
Pittsburgh 26
(3) Notre Dame 29, 3 OT
Things to Work On:
I give up. The play calling is ridiculously awful. Run up the middle, run up the middle, pass (hope for the first down, punt. You're not going to win with that type of play calling. UConn's defense can only do so much.
Up Next:
The Huskies return home to Rentschler Field on Friday night when they'll host the Pittsburgh Panthers. Kickoff is scheduled for 8 p.m.
Follow Ian on Twitter @soxanddawgs. And be sure to like us on Facebook as well.
Photo credit: cloe poisson – hartford courant (no. 14 in gallery), usf athletics