It's been since 1986 when the UConn Huskies men's basketball team last lost to an in-state team.
Since a 49-48 loss to the Hartford Hawks that year, which happened to be former coach Jim Calhoun's first year at the helm, the Huskies are 66-0 against teams from the state. Late on Sunday night in the 2012 Paradise Jam, they almost saw that streak come to an end.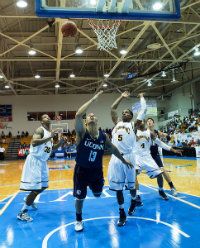 If it weren't for a Shabazz Napier three-pointer late in regulation, we'd be talking about a loss instead of a win.
Napier was huge in both overtimes as he made his free throws to help UConn hold off the Quinnipiac Bobcats 89-83 in double overtime at the University of the Virgin Islands Sports and Fitness Center in Charlotte Amalie, St. Thomas, U.S.V.I.
UConn improves to 4-0 on the season and will take on the New Mexico Lobos for the 2012 Paradise Jam title on Monday night at 10 p.m. Quinnipiac falls to 2-2 and will face the George Mason Patriots in the consolation game.
Napier finished with a career-high 29 points, 23 of them coming in the second half and both overtimes. Ryan Boatright added 18 points and four assists while Omar Calhoun had 17 points and five rebounds.
Tyler Olander led UConn with seven rebounds to go along with his five points before fouling out.
Dave Johnson paced the Bobcats with 16 points and had five rebounds and four assists. Garvey Young had 14 points while Jamee Jackson added 13 points and seven rebounds. Ike Azotam rounded out the Bobcats in double-digits with 10 points and he had a game-high nine rebounds.
UConn Huskies vs Quinnipiac Bobcats 2012 Paradise Jam Box score
Follow Ian on Twitter @soxanddawgs. And be sure to like us on Facebook as well.

photo credit: thomas layer – special to hartford courant (no. 2 in gallery)