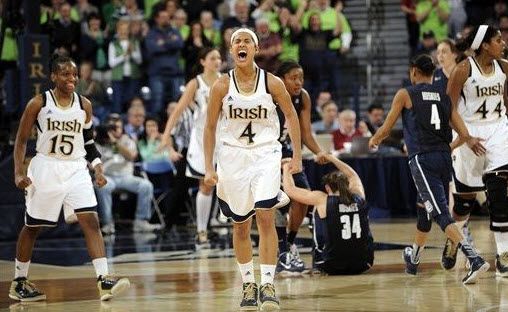 The UConn Huskies women's basketball team versus Notre Dame Fighting Irish with the Big East Regular Season Championship on the line. Only one team could win it outright.
And they did. Unfortunately for us UConn fans, it was the Irish who prevailed 96-87 in triple OT in front of a sold-out crowd and nationally televised audience on ESPN2 at the Joyce Center in South Bend, IN on Monday night.
UConn finishes at 27-3 (14-2 Big East). Both of the Big East losses came to the Irish. Notre Dame finishes the regular season at 28-2 (16-0).
The Huskies had many chances to win this game in regular and in the first two overtimes.
UConn was up one late in the game when Skylar Diggins missed a shot but was fouled. She made the first but missed the second giving UConn the ball with the shot clock turned off. But Caroline Doty turned the ball over and the Huskies had to hold their breath when Kayla McBride's shot was just off the mark.
The Huskies scored the first six points of the first overtime, only to see the Irish fight back and cut the lead to two at 70-68 with 13 seconds left on a pair of Natalie Achonwa free throws. On ensuing inbounds play, Morgan Tuck was fouled and could give UConn a four point lead with a pair of free throws.
She missed the first one but made the second one to put UConn up by three. Notre Dame hadn't made a three pointer all game and I thought UConn might foul but they didn't. And it cost them as McBride nailed a three. Then Caroline Doty pulled a "Roscoe Smith" and attempted a long shot with about 3-4 seconds on the clock. This gave the Irish the ball but they were unable to get a shot off.
In the second overtime, UConn pulled out to a five point lead behind Kaleena Mosqueda-Lewis and Kelly Faris. Two free throws by Diggins cut the lead to three. Breanna Stewart had a chance to make it a five point lead with 1:31 left but made one of two.
After an Achonwa layup, Faris was called for a foul on the offensive end turning the ball over to the Irish. Kaila Turner hit a jumper and then KML turned the ball over and once again UConn had to hold their breath. Fortunately, Diggins turned the ball over and this one headed to a third overtime.
It was all Notre Dame in the third OT as they seized control behind Jewel Loyd and Diggins. UConn would end up being sloppy with the ball and ND would hit its free throws to ice the game.
KML, who played all 55 minutes, led the Huskies with 26 points while Kelly Faris had a double-double of 21 points and 11 rebounds. Stefanie Dolson had an inauspicious triple-double of 12 points, 11 rebounds and 11 turnovers before fouling out with 32 seconds in regulation.
Tuck had a nice game in her second start with 11 points and seven rebounds. Bria Hartley's shooting funk continued (3-7) but she finished with 10 points and six assists before fouling out as well. Stewart's struggles were back again on the offensive end as she had just five points but pulled down five rebounds and had five blocked shots.
Despite shooting 11-of-31, Diggins led the way for the Irish with a double-double of 29 points and 11 rebounds. Her backcourt partner, McBride, was 11-of-28 from the floor but had 26 points. Achonwa finished with 17 points and eight rebounds.
When you look back it, this loss to the Fighting Irish by the Huskies doesn't mean anything other than UConn didn't win the Big East Regular Season Championship.
In the grand scheme of things down the road though it does as Notre Dame has owned UConn as of late. And with potential matchups in the Big East Tournament and NCAA that looms large.
This is also shows UConn what they really need to do to win a championship. We're not used to see UConn miss free throws but they did. They've been better with the ball as of late but had 32 turnovers on the night.
If they want to win the Big East Tournament Championship and more importantly, a NCAA Championship, they'll have to do both things better and hope that Stewart and Hartley snap out of their funks.
UConn has earned a double-bye in the Big East Tournament so it looks like they'll begin play on Sunday.
To continue reading, please click on the continue reading button below if you're on the home page.
UConn Huskies @ Notre Dame Fighting Irish 3.4.13 box score
Here are the postgame quotes from Notre Dame head coach Muffet McGraw and UConn head coach Geno Auriemma.
Follow Ian on Twitter @soxanddawgs. And be sure to like us on Facebook as well.
photo credit: ap photo