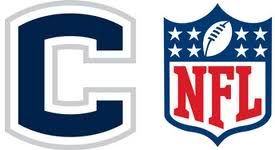 While the news wasn't good for seven former members of the UConn Huskies football team, eight former Huskies survived the 2012 NFL cutdown day and will be on the 53-man rosters of their teams.
They are:
Will Beatty, New York Giants
Tyvon Branch, Oakland Raiders
Donald Brown, Indianapolis Colts
Robert McClain, Atlanta Falcons
Dan Orlovsky, Tampa Bay Buccaneers
Kendall Reyes, San Diego Chargers
Anthony Sherman, Arizona Cardinals
Donald Thomas, New England Patriots
Notes: Scott Lutrus is on injured reserve with the Indianapolis Colts after tearing his ACL. Zach Hurd is on injured reserve with the Oakland Raiders with a head injury suffered early in camp.
Beatty was a second round pick of the Giants in 2009 and played in all 16 games that year with four starts. He played in eight games in 2010 with two starts and started 10 games for them before suffering a season-ending eye injury.
Branch was a fourth round pick of the Raiders in 2008 and has been a starter at safety since 2009 after playing eight games his rookie season. He has 267 career tackles, three interceptions and three forced fumbles. He was given the franchise tag by the Raiders this offseason but signed a four-year deal worth $26.6 million with $17.6 of that guaranteed.
Brown was a 1st round pick of the Colts in 2009 and signed a five-year deal with them. He's been a bit of disappointment for them as he's rushed for 1,423 yards with 10 touchdowns in three seasons. His best year came in 2011 when he ran for 645 yards and five touchdowns.
McClain was a 7th round pick of the Carolina Panthers in 2010 and made the team playing all 16 games (two starts). He finished the season with 16 tackles and one pass defensed. He was cut by the Panthers in 2011 before ending up with the Jaguars late in the season and was once again cut. He was signed by the Falcons this past January.
Orlovsky is the veteran of all the Huskies in the NFL. He was drafted by the Lions in 2005 and played there through 2008. He then moved on to the Houston Texans in 2009 and 2010 before spending last season in with the Colts. He was signed by Tampa Bay in the offseason to back up Josh Freeman. Over his seven NFL seasons, he's played in 21 games and thrown for 2,880 yards and 14 touchdowns with 12 interceptions.
Reyes was a second round pick of the Chargers this year and is entering his rookie season.
Sherman was drafted by the Cardinals in the 5th round of the 2011 NFL Draft and played in 15 games (seven starts) last year. He had one rush for three yards and had eight catches for 19 yards. He also made eight tackles on special teams.
Thomas was a 6th round pick of the Miami Dolphins in 2008 and won the starting job in camp. Unfortunately he was injured in the first game of the year and was placed on injured reserve. He returned in 2010 to play in all 16 games with 12 starts and was cut before the 2010 season. He was picked up by the Lions but was inactive for the rest of the season. He was signed by the Patriots in September of last year and ended up playing in 10 games (one start).
Follow Ian on Twitter @soxanddawgs. And be sure to like us on Facebook as well.