Trips to tropical locations usually bodes for well for the UConn Huskies men's basketball team. They've won three of the four tournaments they've played.
They had won the Paradise Jam in 2008, a tournament they were playing in the finals in 2012. They've also won the Maui Inviational twice. The trip last year to the Bahamas didn't go as planned.
And unfortunately, the Huskies had to settle for second place in the 2012 Paradise Jam as they were beaten by the New Mexico Lobos 66-60 at the University of the Virgin Islands Sports and Fitness Center in Charlotte Amalie, St. Thomas, U.S.V.I. on Monday night.
The 21/23 Huskies fall to 4-1 on the season. New Mexico improves to 4-0 on the season.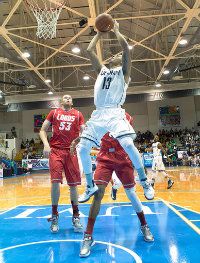 UConn was led by the reigning Big East Player of the Week Shabazz Napier who had 23 points and four assists. Ryan Boatright added 12 points while Omar Calhoun added 10 points and five rebounds.
DeAndre Daniels and Niels Giffey both had five rebounds with Daniels chipping in with nine points.
Kendall Williams led New Mexico with 15 points and five assists while pulling down five rebounds. Hugh Greenwood added 12 points and a game-high seven rebounds. Tony Snell had 11 points and Alex Kirk rounded out the Lobos in double digits with 10 points.
The Huskies found themselves down in a hole more than a few times in this game and they never quit. They actually battled back to take the lead late in the game before New Mexico got hot again and closed out the win.
I really think that's going to be the theme of this season. You're going to see a UConn team that goes out and there gives 110% every game.
UConn Huskies vs New Mexico Lobos 2012 Paradie Jam Finals box score
Follow Ian on Twitter @soxanddawgs. And be sure to like us on Facebook as well.
photo credit: thomas layer – special to hartford courant (no. 3 in gallery)