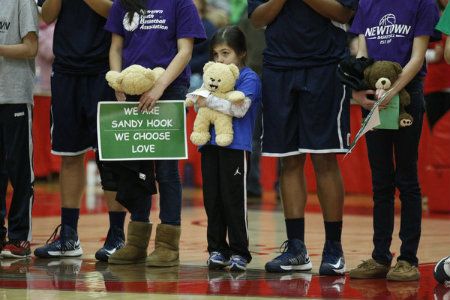 It's been a long time since the UConn Huskies women's basketball team played a road game in the state of Connecticut (1991). But when it's one of your former star players (Jen Rizzotti) at an in-state school (Hartford), you do what you can to help her build her program.
After a very emotional pre-game tribute to the victims of the Sandy Hook Elementary School shooting attended by students of the school who survived, the Huskies and Hartford Hawks took to the court to provide a distraction for those young students on Saturday afternoon.
It wasn't much of a game though as the Huskies dominated throughout on their way to a 102-45 win over the Hawks in front of a sold-out crowd at Chase Family Arena in West Hartford, CT.
The No. 2 Huskies improve to 10-0. Rizzotti's Hawks squad falls to 8-3.
UConn was paced by freshman Breanna Stewart's career-high 27 points and seven rebounds along with two blocked shots. Stewart passed former Husky All-American Maya Moore with 169 points in her first 10 career games (Moore had 165).
Kaleena Mosqueda-Lewis added 21 points while Kelly Faris had 18 points. Brianna Hartley's resurgence continued as she had 15 points, six assists and five steals. Stefanie Dolson rounded out the Huskies in double-digits with 10 points.
The Hawks, who played without their leading scorer Amber Bepko, were led by Daphne Elliott's 10 points. Nikkia Smith added eight points and a team-high four rebounds while Ruthanne Doherty and Katie Roth both had six points.
I'll be honest. I'm not sure how they played on Saturday. That pre-game ceremony was so moving that you could see the players and staff holding back tears. But as I said above, I'm sure it was a nice distraction for the students from Newton.
Everything UConn has done up to this point has been in preparation for the big games on their schedule. The first of those comes up in one week when they'll take on the No. 1 Stanford Cardinal in Palo Alto, CA. Tip is scheduled for 4 p.m.
UConn Huskies @ Hartford Hawks 12.22.12 box score
Follow Ian on Twitter @soxanddawgs. And be sure to like us on Facebook as well.
photo credit: david butler ii – special to hartford courant (no. 4 in gallery)