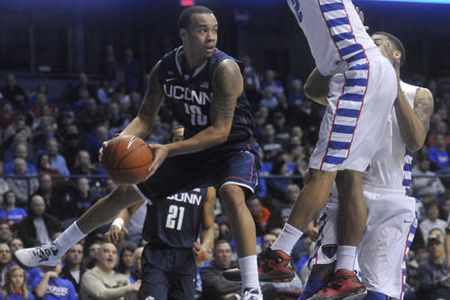 Someone needs to make a new version of the Ghostbusters theme song from "Who ya gonna call? Ghostbusters!" to "Who ya gonna call? Shabazz!?
Seriously folks, if it weren't for Shabazz Napier, there's no telling how Saturday night's game would have ended up.
Behind 28 points from Napier, the UConn Huskies rallied from a first half deficit to beat the DePaul Blue Demons 81-68 in front of 8,862 at Allstate Arena in Rosemont, IL.
UConn improves to 19-7 (9-5 Big East) while DePaul falls to 11-16 (2-12).
Besides his 28 points, Napier also had a team-high seven rebounds and four assists. Omar Calhoun was a big part of the second half comeback as he scored 15 of his 17 points in the second half. He also had five rebounds and four assists.
Ryan Boatright, who hails from nearby Aurora, didn't disappoint the hometown fans as he had 17 points, four rebounds and six assists. Niels Giffey came off the bench to add 10 points.
One-time UConn commit Cleveland Melvin led the Blue Demons with his 14th career double-double and seventh of the season with 20 points and 10 rebounds. Brandon Young added 13 points and six assists while Worrel Clahar had 10 points and a team-high seven assists.
The Huskies controlled the middle part of the first half before DePaul took control and an eventual three-point lead at the half, 37-34.
After Clahar opened up the second half, UConn went on a 11-2 burst to take 45-41 lead. Melvin then followed with a six point run of his own that included two dunks to put the hometown team back on top.
But behind Napier and Calhoun, the Huskies seized control of the game with a 13-0 run. They would continue to build their lead to 74-57 and never looked back.
I'm sure Napier won't win Big East Player of the Year but he has to be considered. What he has done for the Huskies this season, there are no words for. Sure there's been times where he's been off. But for the most part, he has carried this team on his back.
You also have to think that Kevin Ollie has a really good chance of winning Big East Coach of the Year. What he has done with what was left for him is beyond remarkable. He got these kids to play for him and believe in his system. Now he's one win away from 20 in his first year as coach.
Getting No. 20 won't be easy though next time out as the Huskies wil host the Georgetown Hoyas on Wednesday night at Gampel Pavilion. Tip is scheduled for 7 p.m.
To continue reading, please click on the continue reading button below if you're on the home page.
UConn Huskies @ DePaul Blue Demons 2.23.13 box score
Here are the postgame quotes from UConn head coach Kevin Ollie (courtesy of Dom Amore of the Hartford Courant)
Follow Ian on Twitter @soxanddawgs. And be sure to like us on Facebook as well.
photo credit: brad horrigan – hartford courant (no. 19 in gallery)