Another visit to an old friend for the UConn Huskies women's basketball team. And has been the case in the past, it was just another big win for the team from Storrs, CT.
Behind stifling defense and a well-balanced scoring effort, the UConn women beat Jamelle Elliott's Cincinnati Bearcats 67-31 in front of 1,737 at Fifth Third Arena on Saturday night in Cincinnati, OH.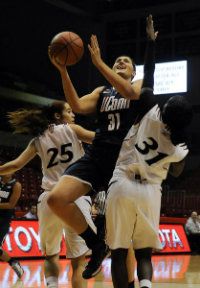 The Huskies improve to 18-1 (5-1 Big East). The Bearcats fall to 8-11 (0-6).
Stefanie Dolson led the Huskies with 15 points in 25 minutes of action. Breanna Stewart was the only other Husky in double digits with 10 points and she also had seven rebounds.
Kaleena Mosqueda-Lewis had a game-high nine rebounds and eight points. Kelly Faris, Morgan Tuck and Brianna Banks all had seven points a piece. Bria Hartley had a nice game with six points, six rebounds and a team-high five assists.
Alyesha Lovett paced the Bearcats with nine points. Dayeesha Hollins had seven points while Kayla Cook had six points and a team-high four rebounds.
Cincinnati scored the first four points of the game. After that, it was all UConn as they closed out the half on a 41-5 run.
It's always tough when Geno Auriemma has to face a former player and/or coach of his. You know he wants to win but he doesn't want to embarrass them.
And that's basically what happened in this game.
Good win for the Huskies who continue to play some great basketball. They'll be back in action on Tuesday night when they host the Villanova Wildcats at the XL Center in Hartford, CT. Tip is scheduled for 7 p.m.
UConn Huskies @ Cincinnati Bearcats 1.26.13 box score
Here are the postgame quotes from Cincinnati head coach Jamelle Elliott and UConn head coach Geno Auriemma.
Here are Cincinnati's postgame notes.
Follow Ian on Twitter @soxanddawgs. And be sure to like us on Facebook as well.
photo credit: michael mcandrews – hartford courant (no. 8 in gallery)