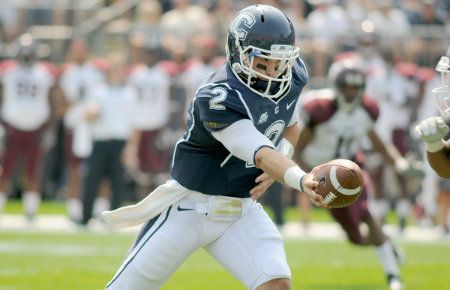 While Chandler Whitmer has been declared QB1 for the UConn Huskies football team, the competition for the backup spot has been lessened by one. Backup true sophomore QB Michael Nebrich has decided to transfer.
Here's the release from UConn:
STORRS, Conn. (August 8, 2012) – University of Connecticut sophomore quarterback Mike Nebrich (Burke, Va.) announced that he will transfer to another school on Wednesday morning. Nebrich began UConn camp as second on the depth chart along with senior Johnny McEntee (Fullerton, Calif.).
Nebrich played in eight games last year as a true freshman and passed for 69 yards and had ten yards of rushing. He was three of eight for 60 yards in UConn's opening win over Fordham on Sept. 3.
With Casey Cochran battling an injured wrist suffered in a non-football accident, the transfer of Neibrich leads me to believe that Cochran will most likely be redshirted this season giving him four more years, hopefully at UConn.
And if Cochran is redshirted this season, that leaves only Scott McCummings and Johnny McEntee as backups to Whitmer. McCummings figures to see a lot of action if the Huskies employ the "Wildcat" again this year like they did last year with him.
Follow Ian on Twitter @soxanddawgs. And be sure to like us on Facebook as well.
photo credit: tia ann chapman – hartford courant