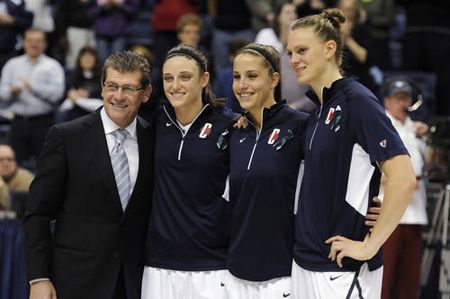 In 2012, the UConn Huskies women's basketball team suffered a meltdown against the St. John's Red Storm and lost. It ended all sorts of winning streaks for the UConn women's team.
In 2013, UConn's seniors along with the rest of the team made sure that didn't happen. Plus coming off of a loss on Monday, you knew the Seton Hall Pirates were in trouble.
The Huskies started out on a 13-3 run to start the game and never looked back in a very easy 90-30 win over the Pirates in front of 9,107 on Senior Day at Gampel Pavilion on Saturday afternoon.
UConn improves to 25-2 (12-1 Big East) while Seton Hall falls to 9-18 (4-10).
The Huskies were led by Kelly Faris and Kaleena Mosqueda-Lewis who both had 18 points. Ironically enough for both them, they reached the 1,000 point plateau in their careers. KML did it first and Faris did it later in the game. They are the 37th and 38th players to reach that milestone while at UConn.
Faris also had seven assists and seven steals. The seven steals put her over the 500 mark in her career.
Breanna Stewart, noticeably absent in the scoring column lately, returned to form with 16 points and eight rebounds. Stefanie Dolson rounded out the Huskies in double digits with 12 points and nine rebounds.
UConn's two other seniors, Caroline Doty and Heather Buck, had five points and four points respectively.
Terry Green came off the bench to lead Seton Hall with 12 points. The only member of the Pirates starting five to score was Ka-Deidre Simmons who had nine points and team-highs of four rebounds, three assists and three steals.
Seton Hall's main problem was taking care of the ball and that helped the Huskies out tremendously early on. Of course with KML bombing in threes as well, the Pirates had no chance in this game from the get go.
It was nice to see Stewart bounce back in this one. She had been in a serious funk lately. And one point, head coach Geno Auriemma was seen screaming at her.
Next thing you know, Stewart scores the next eight points and is crashing the boards, blocking a shot and playing like the Stewart we all saw earlier in the season.
She'll need to continue this going forward because she is an integral part of this UConn team.
The Huskies are back in action on Tuesday night when they'll host the Pittsburgh Panthers in their XL Center regular season finale. Tip is scheduled for 7 p.m.
To continue reading, please click on the continue reading button below if you're on the home page.
Seton Hall Pirates @ UConn Huskies 2.23.13
Here are the postgame quotes from UConn head coach Geno Auriemma.
Here are UConn's postgame notes.
Follow Ian on Twitter @soxanddawgs. And be sure to like us on Facebook as well.
photo credit: michael mcandrews – hartford courant (no. 16 in gallery)