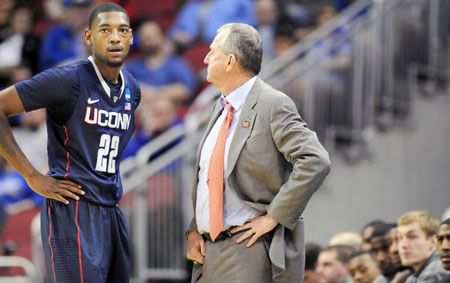 The RMS Titanic sank on April 15, 1912. 100 years later, the U.S.S. UConn continues to take on water and may sink before all is said done.
With Jeremy Lamb and Andre Drummond off to get paid in the NBA as well as the departures of Alex Oriakhi and Michael Bradley, the UConn Huskies men's basketball program couldn't really afford to lose another player. Unfortunately that is happening to them again.
Jeff Goodman of CBSSports.com was the first to report on Saturday that UConn sophomore small/power forward Roscoe Smith asked for and received his release from the school. Wherever Smith decides to go to school, he will have to sit out next year due to the NCAA transfer rules.
After spending most of the 2010-11 season that saw the Huskies win the 2011 NCAA Championship as a starter, Smith saw his playing time decrease this year. In 18.3 minutes of action, he averaged 4.4 points and 3.3 rebounds.
He did come on at the end of the season though and was a big reason why the Huskies were able to make the late season run into the NCAA Tournament.
Whether or not the Huskies are eligble for the postseason next year, they are in trouble. They will have only eight players plus walk-ons unless they can get someone to give them a late commitment. It's also quite possible that Bradley returns to the school.
While it's still too early tell, no matter what happens, it's looking more and more like it's going to be a long 2012-2013 season for the Huskies.
Follow Ian on Twitter @soxanddawgs. And be sure to like us on Facebook as well.
photo credit: Bettina Hansen – Hartford Courant