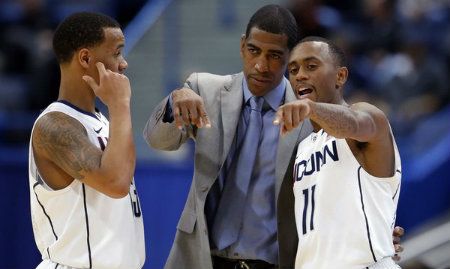 Well it's about frickin time UConn Huskies AD Warde Manuel got off his butt and gave UConn men's basketball coach Kevin Ollie a long-term deal.
According to Andy Katz of ESPN.com, Ollie will be given a 5-year deal before Saturday night's game against the Washington Huskies. Katz reports that a press conference will be held at 5 p.m. to announce the deal.
This is huge for the future of the UConn men's program.
Not only does it give what former head coach Jim Calhoun wanted, it gives the UConn men some stability going forward off and on the court.
Ollie has done a tremendous job this season with what he has.
Despite not having a inside game, his Huskies team is 9-2. Like their coach who gives it his all, the team has been playing with that same mentality.
Follow Ian on Twitter @soxanddawgs. And be sure to like us on Facebook as well.
photo credit: david butler ii – us presswire