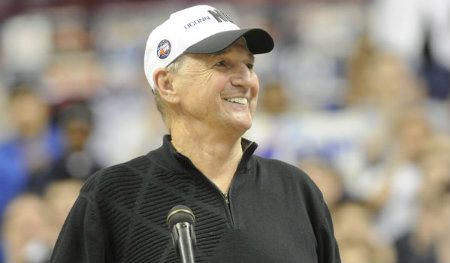 Given everything that's happened with him health wise over the summer, it probably shouldn't come as a surprise that UConn Huskies men's basketball coach Jim Calhoun is going to announce his retirement.
According to a report on NBC Connecticut, Calhoun will announce his retirement on Thursday at Gampel Pavilion. In the report, it states that Calhoun wants to meet with his players before any official announcement.
"Don't be surprised by anything, even this week," Calhoun said.
It is a matter of Calhoun and his agent "dotting the 'i's' and crossing the 't's'," according to the source.
A second source said Calhoun wants to meet with his players in person before any announcement is made.
We usually go through this each year with Calhoun but the bike accident may have forced his hand. One of the things Calhoun had wanted was to announce Kevin Ollie as the coach-in-waiting.
And by retiring one month before the 2012-13 lameduck season ends, Calhoun may have forced the hand of new AD Warde Manuel. It'll be hard for Manuel to find a suitable replacement on short notice and Ollie seems to be ready.
He's had a heavy hand in getting some of the better players in Storrs since he joined Calhoun's staff. If he's not going to be the coach, it could affect the decisions recruits have made.
UPDATE: It looks as though Ollie will be named as the successor to Calhoun.
Follow Ian on Twitter @soxanddawgs. And be sure to like us on Facebook as well.
photo credit: hartford courant