As you've already heard by now, UConn Huskies freshman Andre Drummond is planning to leave Storrs after one season to head to the NBA. He becomes the first member of the UConn men's basketball program to leave after one season in Storrs.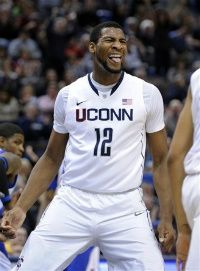 He'll join his teammate Jeremy Lamb who declared his intentions to head to the NBA a few days ago. With the loss of both Lamb and Drummond along with the transfer of Alex Oriakhi, the Huskies are going to be a little thin in the frontcourt.
The big question though is how Drummond will do in the NBA.
He definitely has the potential to be a star in the NBA like Dwight Howard or he could turn out to be like Hasheem Thabeet.
Right now, Drummond is a raw prospect. The talent is there defensively but offensively he still has a lot to learn. Obviously one of those things he needs to work on is his free throw shooting.
He may have been better served by staying one more year under the tutelage of Jim Calhoun but the allure of NBA money is hard to pass up. If Drummond can get into the right system in the NBA and get some good teaching from the right people, he could take the NBA by storm.
As much as I liked Thabeet when he was at UConn and still do, I only hope that Drummond doesn't end up riding the pine in the NBA.
Something tells me that will not happen with him.
Follow Ian on Twitter @soxanddawgs. And be sure to like us on Facebook as well.
Photo credit: AP Photo