The famous line of the late North Carolina State Wolfpack basketball coach and one time UConn Huskies assistant coach Jim Valvano was "Don't Ever Give Up".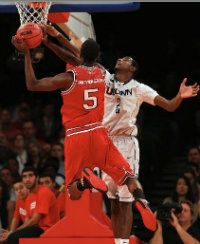 On Tuesday night at Madison Square Garden in the tournament named after him, both teams followed that mantra to a tee.
Unfortunately for UConn, they fell just a bit short as the Wolfpack hit their free throws down the stretch for a 69-65 win over the Huskies.
UConn falls to 6-2 on the season while NC State improves to 5-2.
Shabazz Napier had a great first half with 15 points but finished with 19 points. He also had two rebounds and two assists. Ryan Boatright had a nice night with 18 points, six rebounds, four assists and three steals.
Enosch Wolf also had a great game off the bench as he had 10 points and pulled down six boards.
C.J. Leslie, a one-time UConn recruit, and Lorenzo Brown both led the Wolfpack with 16 points and four assists. Leslie ended up with a double-double as he had 13 rebounds.
After going scoreless in the first half, Richard Howell ended up with a double-double of his own with 13 points and 10 rebounds. Scott Wood rounded out the Wolfpack in double digits with 13 points as well.
The Huskies dominated the early part of the first half getting out to as much as an 11 point lead. NC State did battle back though to take a one-point lead though at the break.
In the second half, it went back and forth before the Pack seized control late. And they did that with their bigs who basically took over and got State a hard fought victory.
We knew one of the problems this Huskies team would have is on the inside. They just don't have the depth or talent there. Wolf was a surprise on Tuesday night and he basically needs to play out of his gourd every time out. But if he can do that, UConn might have somewhat of a chance on the inside.
Either way, I am proud of the way the Huskies battled all game long. It is a by-product of their new head coach Kevin Ollie, who needs to be locked up long-term as soon as possible so the Huskies won't get hurt in recruiting. Especially when they need a big man who can come in and play right away.
Tyler Olander is basically useless right now and Phil Nolan isn't ready yet. So until then, we're going to continue to see UConn rely on their guards until the inside game improves.
UConn is back in action on Friday night when they'll host the Harvard Crimson at Gampel Pavilion on campus in Storrs, CT. Tip is scheduled for 7 p.m.
To continue reading, please click on the read more button below if you're on the home page.
North Carolina State vs UConn Huskies Jimmy V Classic 12.4.12 box score
Here are the postgame quotes from UConn head coach Kevin Ollie.
Follow Ian on Twitter @soxanddawgs. And be sure to like us on Facebook as well.
photo credit: getty images