There are going to be times this season when the UConn Huskies women's basketball team will be tested. Monday night was one of those nights.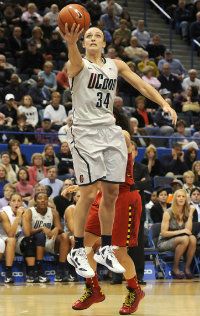 Behind a stellar all-around effort from Kelly Faris, the No. 2 Huskies beat the No. 9 Maryland Terrapins 63-48 in front of 11,485 at the XL Center in Hartford, CT in the Women's Jimmy V Classic.
UConn improves to 7-0 on the season. Maryland falls to 4-2.
Faris may not have led the team in scoring on Monday night but she put up some outstanding numbers. She had eight points, seven rebounds, seven assists and eight steals. The assists and steals were a team-high.
Stefanie Dolson led UConn with 14 points and eight rebounds. Breanna Stewart added 13 points and six rebounds. Brianna Banks rounded out the Huskies in double figures with 11 points.
Tianna Hawkins led the Terrapins with a double-double of 14 points and 10 rebounds. Chloe Pavlech added 10 points while Alicia DeVaughn had eight points and nine rebounds.
This was definitely not the prettiest of games. Neither team shot the ball all that well. I'm also guessing there'll be some players in the cold tub after the game icing down some bruises as it was a physical game as well.
But this is a game the Huskies needed to go through. With some tough tests coming up, games like these will help them towards their goal of an eighth NCAA Championship.
The UConn women are back in action on Thursday night when they host the No. 10 Penn State Nittany Lions at Gampel Pavilion in Storrs, CT. Tip is scheduled for 7 p.m.
Maryland Terrapins @ UConn Huskies 12.3.12 box score
Here are the postgame quotes from UConn head coach Geno Auriemma as well as some of his players.
Here are UConn's postgame notes.
Follow Ian on Twitter @soxanddawgs. And be sure to like us on Facebook as well.
photo credit: michael mcandrews – hartford courant (no. 15 in gallery)