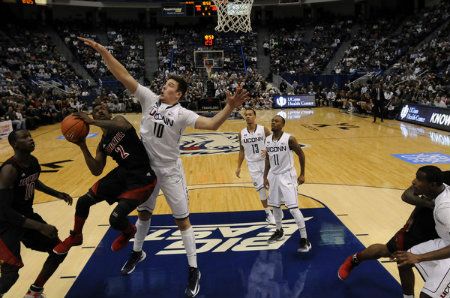 ESPN's Big Monday. The No. 1 team, the Louisville Cardinals in the house. And you know the UConn Huskies would be pumped up for the game.
The Huskies started out fast but faded late as Louisville used a big early run in the second half on their way to a 73-58 win in front of 14,287 at the XL Center in Hartford, CT.
UConn falls to 12-4 (2-2 Big East) while Louisville improves to 16-1 (4-0).
The Huskies were led freshman Omar Calhoun's 20 points. Shabazz Napier added 12 points and six assists while Ryan Boatright had 11 points and six assists.
DeAndre Daniels and Niels Giffey led the Huskies with five rebounds each with Daniels adding nine points and Giffey four.
Russ Smith led the way for the Cardinals with 23 points. Chane Behanan chipped in with 16 points, nine rebounds and five assists.
Peyton Silva, who spent most of the first half on the bench with two fouls, finished with 11 points. Gorgui Dieng led the Cardinals with 16 rebounds to go along with his six points.
With Silva on the bench, UConn was able to build up their lead in the first half. The Cardinals did keep it close though. The Huskies had a chance to take a double digits lead with 2:19 left but a Daniels turnover led to a Cardinals basket to cut it to six.
A missed shot by Tyler Olander and Behanan dunk cut it to four before a heads up play by Calhoun got it to six at the buzzer.
In the second half though, it was all Cardinals as their speed and tenacious defense wore down the Huskies. They used a 19-5 run to seize control of the game and never looked back.
This was a tough loss for the Huskies and the first time they've lost this badly this season. I really thought they played well in the first half and lost their way in the second half.
They really couldn't do much offensively with the pressure that the Cardinals put on him.
One thing is for certain.
I fully expect the Huskies to play better their next time out. That will come on Saturday afternoon when they travel to the Peterson Events Center to take on the Pittsburgh Panthers. Tip is scheduled for 12 p.m.
To continue reading, please click on the continue reading button below if you're on the home page.
Louisville Cardinals @ UConn Huskies 1.14.13 box score
Here are the postgame quotes from UConn head coach Kevin Ollie.
Here are UConn's postgame notes.
Follow Ian on Twitter @soxanddawgs. And be sure to like us on Facebook as well.
photo credit: john woike – hartford courant (no. 17 in gallery)