As we learned late yesterday afternoon, UConn Huskies freshman point guard Ryan Boatright had been reinstated to play effective immediately. Shortly after, the NCAA released a statement as well as timeline of the events surrounding their investigation into Boatright.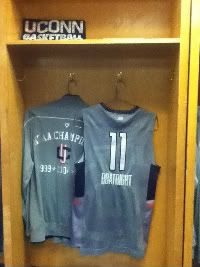 Well if you read the letter below from Boatright's lawyer, Scott Tompsett, apparently their release contained some false info and that Boatright and his mother Tanesha may sue the NCAA.
I am astounded that the NCAA released confidential information about Ryan's case. Ryan and his mother Tanesha cooperated fully with the NCAA with the clear understanding that the information they provided would be kept confidential and would not be released to the public. The NCAA has violated the Boatrights' privacy by releasing their personal information.
Moreover, the NCAA's statement contains false and misleading information. For example, the statement implies that the benefits in question were provided to influence Ryan's decision either to attend UConn or chose an agent, if and when he goes pro. That is false and the NCAA knows it. In fact, the two individuals who provided the benefits are friends of the Boatrights. They were simply helping the family with no expectation of repayment or reciprocation. And there's not a shred of evidence that they influenced Ryan's decision to attend UConn or that they intend to represent Ryan if he ever goes pro. The public also should know that the NCAA never told Tanesha and Ryan who made the accusations about them or told them the substance of the accusations so they could defend themselves. Further, contrary to the NCAA's statement, neither Tanesha nor Ryan received a car from anyone.
Until the NCAA released its statement, the Boatrights considered this matter closed. But the NCAA's improper release of private and false information has caused the Boatrights to consider their legal options.
This whole situation involving Boatright has seemed fishy as it is. Now the NCAA allegedly making false statements makes it even more so.

When you read the NCAA's statement, it sounds like Boatright should have never been "suspended" again.
It will be interesting to follow the developments of this if a lawsuit goes forward.
Follow Ian on Twitter @soxanddawgs. And be sure to like us on Facebook as well.
Photo credit: UConn Huskies Facebook page