By Wil Goldsholl
Hartford, CT, April 7, 2013 – In the last of six games this season between the Connecticut Whale and the Providence Bruins, the Boston affiliate picked up their 44th win by a count of 1-0 on Sunday afternoon in Hartford, in the Whale's last home game of the regular season. Niklas Svedberg was perfect in net for Providence, turning away 28 Whale shots.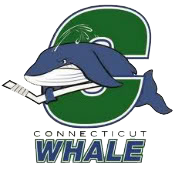 Connecticut (35-28-5-3, 78 pts.) remains in their current position in seventh place in the Eastern Conference playoff race, three points behind sixth-place Portland and three points ahead of eighth-place Hershey.
Despite the lack of scoring, both teams had their share of chances. After Chris Kreider, who played a very strong first period, served a boarding minor in the early minutes of the first, the 21-year-old forward sprung from the box and caught a pass to break in alone on Svedberg. Svedberg got the goal pad out to make the save.
The Whale offense was knocking at the door, with several minutes of sustained offensive pressure, but Svedberg was equal to each and every test.
Providence earned the only goal of the day at 12:28. Ryan Spooner took a feed from Kyle MacKinnon and skated into the zone. The left-hander broke to the right circle and opened up, scoring his 14th on the far side with a wrister that seemed to fool Whale netminder Jason Missiaen. "I felt pretty confident", Missiaen said. "After I gave that one up I wanted to try and keep it simple, just do my job."
Almost five minutes into the second, Rob Flick and Dylan McIlrath threw heavy fists. A minute later, following a big save by Missiaen, Sean Collins shot the puck over the defensive glass for a delay of game penalty. The Whale had two power play tries of their own in the second, but failed to convert in the scoreless period.
Alexander Khokhlachev was charged with slashing at 15:40 of the third, giving the Whale a late power play chance, and Missiaen made it to the bench in the closing minute, but Svedberg and a tenacious Bruins defense held on for the win.
To continue reading, please click on the continue reading button below if you're on the home page.
Providence Bruins 1 at Connecticut Whale 0
Sunday, April 7, 2013 – XL Center Veterans Memorial Coliseum
Providence 1 0 0 – 1
Connecticut 0 0 0 – 0
1st Period-1, Providence, Spooner 14 (MacKinnon), 12:28. Penalties-Kreider Ct (boarding), 6:36.
2nd Period- No Scoring. Penalties-Flick Pro (fighting), 4:53; McIlrath Ct (fighting), 4:53; Collins Ct (delay of game), 5:50; Krug Pro (delay of game), 11:07; Miller Pro (roughing, fighting), 16:56; Palmieri Ct (fighting), 16:56.
3rd Period- No Scoring. Penalties-Ferriero Ct (interference), 1:08; Bourque Ct (goaltender interference), 6:53; Khokhlachev Pro (slashing), 15:40.
Shots on Goal-Providence 13-13-6-32. Connecticut 8-13-7-28.
Power Play Opportunities-Providence 0 / 4; Connecticut 0 / 3.
Goalies-Providence, Svedberg 34-8-2 (28 shots-28 saves). Connecticut, Missiaen 10-7-2 (32 shots-31 saves).
A-5,236
Referees-Graham Skilliter (48), Trent Knorr (44).
Linesmen-Luke Galvin (2), Kevin Redding (16).
Follow Ian on Twitter @soxanddawgs. And be sure to like us on Facebook as well.