Portland, ME, April 20, 2013 – Phil Lane scored a hat trick, and Andy Miele added a goal and two assists, Saturday night at the Cumberland County Civic Center, as the Portland Pirates defeated the Connecticut Whale, 5-1, in the Whale's last game of the regular season.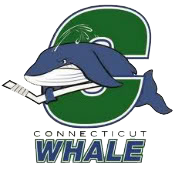 The Whale (35-32-6-3, 79 pts.) finished the regular year 0-5-1-0 in their last six games, but remained mathematically alive for an Eastern Conference playoff spot, with the Norfolk Admirals losing 2-0 Saturday at Albany and the Hershey Bears dropping a 4-2 decision in Binghamton. For the Whale to grab the eighth-and-final playoff spot, they need Norfolk to lose in regulation in Providence Sunday and Manchester to win in regulation at Hershey.
Troy Bodie also had a goal and an assist for Portland in Saturday's win, and Mike Lee made 31 saves. Marek Hrivik scored the lone Whale goal.
The Pirates got the jump on the Whale by dominating the first period, to the tune of a 16-7 shots advantage, and built a 3-0 lead.
The Whale did not sustain any damage until the 13:01 mark, when Lane scored his first of the game to start a three-goal burst in a span of 3:52. Boris Valabik slid the puck at the net from the left point, and Lane deflected it through the legs of Whale starting goaltender Cam Talbot for a 1-0 Portland lead.
The Pirates made it 2-0 at 16:37, after the Whale failed to connect on a couple of clearing attempts. Mathieu Brodeur got the puck down low from the left point, and Bodie was able to jam it into the net from Talbot's right.
Only 16 seconds thereafter, at 16:53, Lane scored again, bursting down right wing past Dylan McIlrath and slipping the puck off the post on Talbot's glove side and into the net.
That goal chased Talbot (13 saves) from the game in favor of Jason Missiaen, and the Whale settled things down after that, outshooting Portland 17-11 in the second period and shaving a goal off of the Pirate lead.
Hrivik got the Whale on the scoreboard at 9:07 of the second, beating Lee on a shot from below the goal line on the right-wing side. Hrivik's try went off of Lee's skate and in, after a shot by Benn Ferriero had been tipped wide.
Portland restored the two-goal lead at 10:19 of the third period, though, when Whale defenseman Logan Pyett overskated the puck deep in his own zone, allowing Miele to jump on it and fire a close-in shot past Missiaen.
Lane completed his hat trick 2:49 later, at 13:08, when he poked a rebound in from the left side of the goalmouth, after Missiaen had stopped a Miele shot.
For information on a possible Whale playoff schedule, as well as playoff tickets and plans, and all of the Whale's many ticketing options, visit www.ctwhale.com, or call the CT Whale ticket office at (860) 548-2000 to talk with an account executive today.
To continue reading, please click on the continue reading button below if you're on the home page.
Connecticut Whale 1 at Portland Pirates 5
Saturday, April 20, 2013 – Cumberland County Civic Center
Connecticut 0 1 0 – 1
Portland 3 0 2 – 5
1st Period-1, Portland, Lane 12 (Valabik, Rundblad), 13:01. 2, Portland, Bodie 7 (Feser, Brodeur), 16:37. 3, Portland, Lane 13 (Miele, Brown), 16:53. Penalties-Collins Ct (boarding), 1:55; Haley Ct (fighting), 7:58; Clackson Por (fighting), 7:58; Miller Ct (slashing), 19:56.
2nd Period-4, Connecticut, Hrivik 7 (Ferriero, Miller), 9:07. Penalties-Bickel Ct (fighting), 7:47; Louis Por (fighting), 7:47; Rundblad Por (holding), 16:17.
3rd Period-5, Portland, Miele 19 (Bodie), 10:19. 6, Portland, Lane 14 (Miele, Shinnimin), 13:08. Penalties-Rundblad Por (hooking), 1:39.
Shots on Goal-Connecticut 7-17-8-32. Portland 16-11-12-39.
Power Play Opportunities-Connecticut 0 / 2; Portland 0 / 2.
Goalies-Connecticut, Talbot 25-28-1 (16 shots-13 saves); Missiaen 10-8-2 (23 shots-21 saves). Portland, Lee 9-5-0 (32 shots-31 saves).
A-6,085
Referees-Trent Knorr (44).
Linesmen-Joe Ross (92), Jeremy Lovett (78).
Follow Ian on Twitter @soxanddawgs. And be sure to like us on Facebook as well.