Manchester, NH, April 12, 2013 – Tanner Pearson had the game-winning goal and an assist, and Brandon Kozun added a goal and an assist, to lead the Manchester Monarchs to a 3-1 victory over the Connecticut Whale Friday night at the Verizon Wireless Arena.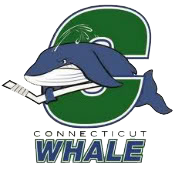 Cam Talbot made 42 saves for the Whale, who were outshot 45-20 in the game, and Chris Kreider had the only Connecticut goal.
The Whale are now 35-29-5-3 on the season and remain at 78 points and in seventh place in the Eastern Conference playoff race. Connecticut is still three points ahead of Hershey, which lost 3-2 in Providence, but is now only one point up on Norfolk, which moved into eighth with a 4-3 win at Worcester.
Manchester had the better of the play for much of the first period, and Talbot was forced to be sharp. Monarch captain Marc-Andre Cliché rang a shot of the goalpost on Talbot's stick side near the 11:30 mark, and Talbot robbed Kozun with a glove save at 12:41, as Kozun tried to roof a rebound.
Nick Deslauriers was called for slashing at 17:57 to create the game's first power play, and the Whale capitalized. A Kris Newbury feed hit Benn Ferriero's skates just outside the Manchester blue line, and the puck bounced up the slot. Kreider jumped on it, got behind the Monarch defense with a burst of speed, and beat Manchester goaltender Martin Jones (19 saves) with a backhand, for Kreider's 12th goal of the season.
The Whale were able to nurse that lead for nearly a full period, despite giving up the first 13 shots of the second frame. The Monarchs would break through for a pair of goals only 1:52 apart, though, late in the second.
Manchester finally got on the board on its third power play of the game, at 17:05. Linden Vey passed the puck off the left-wing boards and it hit the skates of Jordan Weal, whose stick was tied up in front by Stu Bickel, and deflected into the goal.
Then the Whale had a breakdown deep in their own zone at 18:57, allowing Pearson to get open at the left side of the slot. Kozun and Vey combined to get the puck from behind the net to Pearson, and he buried his 15th of the year behind Talbot for a 2-1 Manchester lead.
The Monarchs did a good job of protecting that lead in the third period, outshooting the Whale 14-5, and Kozun sealed the victory with an empty-net goal with 36.9 seconds left. That was a power-play goal, after Newbury was called for slashing at 17:52.
The Whale continue a stretch of five straight road games to end the regular season Saturday night, visiting the Adirondack Phantoms for a 7:00 PM game. All the action can be heard live on "Beethoven Radio" AM 1290 and on-line at www.ctwhale.com. Video streaming is available at www.ahllive.com.
For information on Whale playoff tickets and plans, and all of the Whale's many ticketing options, visit www.ctwhale.com, or call the CT Whale ticket office at (860) 548-2000 to talk with an account executive today.
To continue reading, please click on the read more button below if you're on the home page.
Connecticut Whale 1 at Manchester Monarchs 3
Friday, April 12, 2013 – Verizon Wireless Arena
Connecticut 1 0 0 – 1
Manchester 0 2 1 – 3
1st Period-1, Connecticut, Kreider 12 (Ferriero, Newbury), 18:50 (PP). Penalties-Deslauriers Mch (slashing), 17:57.
2nd Period-2, Manchester, Weal 15 (Vey, Kolomatis), 17:05 (PP). 3, Manchester, Pearson 15 (Kozun, Vey), 18:57. Penalties-Kreider Ct (roughing), 1:58; Bickel Ct (hooking), 5:43; Jean Ct (tripping), 15:51.
3rd Period-4, Manchester, Kozun 25 (Kolomatis, Pearson), 19:23 (PP EN). Penalties-Palmieri Ct (roughing), 6:19; Kreider Ct (tripping), 9:14; Newbury Ct (slashing), 17:52.
Shots on Goal-Connecticut 9-6-5-20. Manchester 12-19-14-45.
Power Play Opportunities-Connecticut 1 / 1; Manchester 2 / 6.
Goalies-Connecticut, Talbot 25-25-1 (44 shots-42 saves). Manchester, Jones 23-25-4 (20 shots-19 saves).
A-5,423
Referees-Darcy Burchell (42), Dave Lewis (46).
Linesmen-Jeremy Lovett (78), Robert St. Lawrence (10).
Follow Ian on Twitter @soxanddawgs. And be sure to like us on Facebook as well.