Glens Falls, NY, March 9, 2013 – Jason Akeson completed a late-game comeback with his third goal of the game at 17:12 of the third period Saturday night at the Glens Falls Civic Center, as the Adirondack Phantoms stunned the Connecticut Whale with a 4-3 win.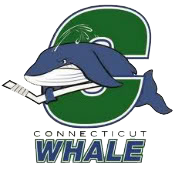 The Whale led 3-1 before the Phantoms reeled off three goals in a span of 3:04, starting at the 14:08 mark of the third.
Akeson started the comeback with his second goal of the game at 14:08, taking a pass from Garrett Roe, who had three assists, and snapping a shot past Whale goaltender Cam Talbot (28 saves) from outside the left-wing faceoff dot.
Eric Wellwood tied the score only 29 seconds later, at 14:37, firing the puck past Talbot from the right side of the slot, after Wellwood was set up by Andreas Lilja.
The game-winner then came at 17:12, as Akeson completed his hat trick by poking the puck just over the goal line off of a mad goalmouth scramble. Jon Sim backhanded the puck into the crease to start the play, Talbot could never get it covered, and Akeson capitalized.
The loss dropped the Whale to 0-2-0-1 in their last three games, and to 27-25-5-3 (62 points) on the season. They remain tied with the Manchester Monarchs for the eighth-and-final playoff spot in the Eastern Conference.
Adirondack struck first in the game at 8:49 of the first period, on Akeson's ninth goal of the season. Akeson and Roe worked a give-and-go play off the rush in the Whale zone, and Akeson finished with a shot to Talbot's stick side.
The Whale responded quickly, though, tying it 1:36 later on Benn Ferriero's first goal in seven games with the Whale. Ferriero scored on a double deflection, as Dylan McIlrath's shot from the right point first hit Chris Kreider and then went off of Ferriero and past Phantom netminder Scott Munroe (25 saves).
The Whale took advantage of some Adirondack penalty trouble at 13:53, as Logan Pyett scored on a two-man advantage. Brandon Segal worked the puck to Pyett in the high slot, and Pyett moved to change the angle before blasting a high shot past Munroe's catching glove.
Connecticut was outshot by a 2-1 margin, 14-7, in the second period, but scored the only goal of the session.
Segal was able to top off a great shift with linemates Andrew Yogan and Brandon Mashinter by banging the puck off of Munroe and just over the goal line from the left side of the goalmouth. That was after Yogan carried the puck across the slot from left to right and backhanded a pass to Segal.
The Whale finish a three-game road weekend Sunday afternoon in Providence against the Atlantic Division-leading Bruins. Faceoff at the Dunkin' Donuts Center Providence is 3:05 PM, and all of the action of that game can be heard live on "Beethoven Radio" 1290 AM, as well as on-line at www.ctwhale.com. Video streaming is available at www.ahllive.com.
The Whale's next home game is Saturday, March 16 against the Manchester Monarchs at 7:00 PM. For all Whale home games, tickets start as low as $10 each ($12 each when tickets are purchased on the day of the game), at the Public Power Ticket Office at the XL Center, through TicketMaster Charge-by-Phone at 1-800-745-3000 and on-line at www.ticketmaster.com.
To continue reading, please click on the continue reading button below if you're on the home page.
Connecticut Whale 3 at Adirondack Phantoms 4
Saturday, March 9, 2013 – Glens Falls Civic Center
Connecticut 2 1 0 – 3
Adirondack 1 0 3 – 4
1st Period-1, Adirondack, Akeson 9 (Roe), 8:49. 2, Connecticut, Ferriero 5 (Kreider, McIlrath), 10:25. 3, Connecticut, Pyett 7 (Segal, Newbury), 13:53 (PP). Penalties-Eddy Adk (boarding), 12:13; served by Ford Adk (bench minor – too many men), 13:10; Klassen Ct (boarding), 16:43.
2nd Period-4, Connecticut, Segal 18 (Yogan), 6:13. Penalties-Klassen Ct (delay of game), 3:17; Thomas Ct (hooking), 6:57; Kreider Ct (hooking), 18:46.
3rd Period-5, Adirondack, Akeson 10 (Roe, Syvret), 14:08. 6, Adirondack, Wellwood 7 (Lilja, Bordson), 14:37. 7, Adirondack, Akeson 11 (Roe, Sim), 17:12. Penalties-Lauridsen Adk (tripping), 19:18; Kreider Ct (tripping), 20:00.
Shots on Goal-Connecticut 7-7-14-28. Adirondack 8-14-10-32.
Power Play Opportunities-Connecticut 1 / 3; Adirondack 0 / 5.
Goalies-Connecticut, Talbot 21-23-1 (32 shots-28 saves). Adirondack, Munroe 11-14-0 (28 shots-25 saves).
A-4,205
Referees-Dave Lewis (46), Jeff Smith (49).
Linesmen-Rich Patry (52), Steeve Lemay (64).
Follow Ian on Twitter @soxanddawgs. And be sure to like us on Facebook as well.