By Wil Goldsholl
Hartford, CT, March 17, 2013 – In the Connecticut Whale locker room on Saturday night, Jason Missiaen's goaltending partner, Cam Talbot, gave a shout in passing, "There ya go, Mish! Big as a house!" The mild-mannered, six-foot-eight goaltender gave pause to flash a grin before continuing to praise his defense for help with rebounds and screens. The Chatham, Ontario product is clearly starting to enjoy his first season with the Connecticut Whale, and rightfully so; he has started and won three games straight for the New York Rangers top affiliate for the first time, after anchoring a 3-2 win over the Atlantic Division-leading Springfield Falcons Sunday afternoon. The 22-year-old also earned First Star honors for a second straight start.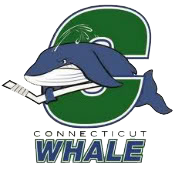 Missiaen said after the game, "It feels good, we're going to try and keep it going," before giving more credit to the boys in front of him for letting him see every shot clearly.
Following an early Whale power play, the Interstate-91 rival Falcons got on the board first with a score from Matthew Ford. Ford broke in to the zone and dished cross-ice to former Whale Jonathan Audy-Marchessault, who connected with Michael Chaput before Ford took control and buried a rebound at 3:45.
Kris Newbury catalyzed a game-tying goal just under three minutes later. From the end boards, with Will Weber on his back, Newbury shoved a pass ahead of the short-side post, where Chris Kreider was lurking on the crease to bury his 11th of the year. The Boston College product has scored six times in his last eight games for Connecticut since being reassigned by the Rangers.
"Chris is day by day starting to use his assets, his neutral zone speed, his physical positioning, cashing in a little bit here and there. Six in his last eight I think; more than here and there," Head Coach Ken Gernander said in the post-game media scrum. Gernander added of the performance as a whole, "We were by no means dominant. We were efficient with the opportunities we got, the PK (penalty kill) was probably the highlight of our second period. We held on the in the third, a large part of that was our goaltender."
Ryan Bourque, who returned from injury this weekend, earned the lead three minutes after Kreider's goal. Andrew Carroll wedged a puck off the wall, allowing Bourque to hit the circle and go far side on Springfield netminder Curtis McElhinney. Sean (P.) Collins, [not to be confused with Springfield's Sean B. Collins], earned the secondary assist on Bourque's sixth of the season.
"I had enough weeks to recuperate and get some energy," Bourque said afterwards, "[the goal] all starts with a dump and a great forecheck from Collins and Carroll. I believe we'll find our niche and get hot at the right time; better late than early."
The Springfield penalty kill had to work two more times in the period, but exhibited a great propensity for shot-blocking, as they have all season. The first ended with the Whale leading 2-1, despite having only hit McElhinney's net five times in the period.
Physicality picked up in the second. The Whale's Blake Parlett went off for cross-checking at 7:09, and Brandon Segal drew blood with a high stick on Nick Drazenovic 49 seconds later, for a double minor. Bourque had a try for a second goal when Sam Klassen made a nice clearing pass shorthanded, but McElhinney stood strong.
Missiaen made a big shorthanded stop of similar nature on Andrew Joudrey with six and a half to play, but a shoving match involving Kreider, Spencer Machacek, and Newbury would negate the remainder of the Whale power play.
Neither team managed a power play goal on the day, but on the ensuing four-on-four, Kelsey Tessier showed prowess with the extra ice again, opening space and giving a great feed to Parlett for a one-timer that Gernander called "a goal-scorer's goal". Parlett's fifth came with 5:04 remaining in the period, lifting Connecticut to a 3-1 lead.
A handful of penalties opened the third, and the period went by quietly, but mostly in the Springfield offensive end. With 3:15 to go in regulation, Springfield cut the deficit in half after a poke pass from Ryan Craig found Ryan Russell, who controlled the puck handily with his skates and finished a dead-angle try.
McElhinney made it off the ice with a minute left, but Nick Palmieri was deserving of a pat on the back for his two shifts in the closing moments, making two timely clears of the zone. The Whale ultimately would hold on, despite being outshot 13-3 in the third period.
Jason Missiaen finished with 29 saves on 31 shots against, and has a goals-against average of 1.00 in his three starts this week. Curtis McElhinney stopped 15 of 18 in the Springfield net.
The Whale are now off until this Friday night, March 22, when they start a three-game home weekend with a 7:00 PM battle against the Hershey Bears at the XL Center. Being a Friday night, that game features $1 hot dogs and $2 until the end of the first intermission.
For all Whale home games, tickets start as low as $10 each ($12 each when tickets are purchased on the day of the game), at the Public Power Ticket Office at the XL Center, through TicketMaster Charge-by-Phone at 1-800-745-3000 and on-line at www.ticketmaster.com.
To continue reading, please click on the continue reading button below if you're on the home page.
Springfield Falcons 2 at Connecticut Whale 3
Sunday, March 17, 2013 – XL Center Veterans Memorial Coliseum
Springfield 1 0 1 – 2
Connecticut 2 1 0 – 3
1st Period-1, Springfield, Ford 5 (Chaput, Audy-Marchessault), 3:45. 2, Connecticut, Kreider 11 (Newbury, Ferriero), 6:32. 3, Connecticut, Bourque 6 (Carroll, Collins), 9:36. Penalties-Holden Spr (goaltender interference), 0:51; Holden Spr (boarding), 10:11; Weber Spr (slashing), 15:53.
2nd Period-4, Connecticut, Parlett 5 (Tessier), 14:56. Penalties-Parlett Ct (cross-checking), 7:09; Segal Ct (double minor – high-sticking), 7:58; Collins Spr (hooking), 13:09; Newbury Ct (roughing), 14:44.
3rd Period-5, Springfield, Russell 8 (Craig, Weber), 16:45. Penalties-served by Kreider Ct (bench minor – too many men), 1:44; Holden Spr (boarding), 4:56; Helmer Spr (hooking), 7:08.
Shots on Goal-Springfield 9-9-13-31. Connecticut 5-10-3-18.
Power Play Opportunities-Springfield 0 / 5; Connecticut 0 / 6.
Goalies-Springfield, McElhinney 23-13-3 (18 shots-15 saves). Connecticut, Missiaen 9-4-2 (31 shots-29 saves).
A-3,881
Referees-Tim Mayer (19), Jamie Koharski (84).
Linesmen-Marty Demers (79), Luke Galvin (2).
Follow Ian on Twitter @soxanddawgs. And be sure to like us on Facebook as well.