St. John's, Nfld., February 9, 2013 – A line of Micheal Haley, Christian Thomas and Kelsey Tessier combined for six points Saturday night at Mile One Centre, as the Connecticut Whale defeated the St. John's IceCaps by a score of 4-1.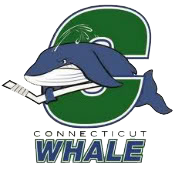 Thomas had an empty-net goal and added two assists, Haley had the game-winning goal and an assist, and Tessier scored the game's first goal. Cam Talbot made 37 saves in the Whale net, as Connecticut was outshot by a margin of 38-20.
It was the first-ever victory for the Whale over the IceCaps, as Connecticut had been 0-3-1-0 in their previous four all-time meetings against the two-year-old IceCaps franchise.
"All three of us were just working real hard out there, which caused them to turn pucks over," Thomas said of his line's play. "We beat them to pucks and it allowed us to get chances, and we got three of them (goals)."
The Whale jumped out to a 2-0 lead in the first period, as the Haley-Tessier-Thomas line scored on back-to-back shifts.
First, it was Tessier scoring his 10th of the year, third in the last four games, at 5:07. Thomas worked the puck out of the left-wing corner to Tessier at the left side of the slot, and Tessier beat IceCap goaltender Eddie Pasquale (16 saves) to the stick side with a snapshot.
Then, 1:25 later at 6:32, Haley had the finish from the right side of the slot, beating Pasquale's glove after Thomas had knocked St. John's' Eric O'Dell off the puck in the right-wing corner.
St. John's cut the lead in half at 9:41, with Carl Klingberg scoring his eighth goal of the season. Kael Mouillierat snapped the puck at the net from the left-wing boards and Klingberg deflected it past Talbot.
The Whale got that goal back at 12:30, on their first power play of the night. Kris Newbury fed the puck from the right-wing side to Brandon Mashinter in front of the net, and he deflected it to Mike Vernace, who had snuck down from the left point to the bottom of the circle, and Vernace ripped a high shot behind Pasquale.
The goal was Vernace's fifth of the year, four of which have come in the last seven games.
That was nearly it for the scoring, as the rest of the first period, the entire second period and nearly 18 minutes of the third passed without another goal.
The IceCaps pressured hard in the third, outshooting the Whale 16-8, but after St. John's pulled Pasquale for an extra attacker with more than two minutes left, Thomas burned them by scoring into the empty net at 17:46, burying a high shot from the right-wing boards just inside the blue line.
The win broke at three-game winless streak (0-1-1-1) for the Whale (21-21-4-2, 48 pts.), who moved back into second place in the Northeast Division, one point ahead of Bridgeport.
The Whale and IceCaps go right back at each other Sunday afternoon at Mile One Centre, with faceoff at 2:30 PM Eastern Time. All of the action of that game can be heard live on "Beethoven Radio" AM 1290, as well as on-line at www.ctwhale.com. Video streaming is available at www.ahllive.com.
The next home game for the Whale is this Friday, February 15 vs. the Portland Pirates at 7:00 PM. As at all Friday-night Whale home games, fans that night can enjoy $1 hot dogs and $2 beers at the XL Center until the end of the first intermission.
For all Whale home games, tickets start as low as $10 each ($12 each when tickets are purchased on the day of the game), at the Public Power Ticket Office at the XL Center, through TicketMaster Charge-by-Phone at 1-800-745-3000 and on-line at www.ticketmaster.com.
To keep reading, please click on the continue reading button below if you're on the home page.
Connecticut Whale 4 at St. John's IceCaps 1
Saturday, February 9, 2013 – Mile One Centre
Connecticut 3 0 1 – 4
St. John's 1 0 0 – 1
1st Period-1, Connecticut, Tessier 10 (Thomas, Haley), 5:07. 2, Connecticut, Haley 6 (Thomas), 6:32. 3, St. John's, Klingberg 8 (Mouillierat, O'Dell), 9:41. 4, Connecticut, Vernace 5 (Mashinter, Newbury), 12:30 (PP). Penalties-Klassen Ct (boarding), 1:01; McIlrath Ct (fighting), 8:37; Cormier Stj (fighting), 8:37; Jaffray Stj (slashing), 11:44; O'Dell Stj (holding), 19:19.
2nd Period- No Scoring. Penalties-Jean Ct (interference), 3:22.
3rd Period-5, Connecticut, Thomas 10 (Yogan), 17:46 (EN). Penalties-Meech Stj (tripping), 1:02; Palmieri Ct (tripping), 10:41.
Shots on Goal-Connecticut 8-4-8-20. St. John's 13-9-16-38.
Power Play Opportunities-Connecticut 1 / 3; St. John's 0 / 3.
Goalies-Connecticut, Talbot 16-19-1 (38 shots-37 saves). St. John's, Pasquale 14-18-2 (19 shots-16 saves).
A-6,287
Referees-David Banfield (77), Keith Kaval (40).
Linesmen-Todd Horwood (34), Jim Vail (5).
Follow Ian on Twitter @soxanddawgs. And be sure to like us on Facebook as well.