By Wil Goldsholl
Hartford, CT, February 16, 2013 – In their second of three home games this weekend, the Connecticut Whale closed out their season series with the Norfolk Admirals with a thrilling 2-1 overtime win Saturday at the XL Center. Brandon Segal potted the game winner two minutes and eight seconds in to the extra period in a rare three-on-three situation, breaking a tie that held up since the first period.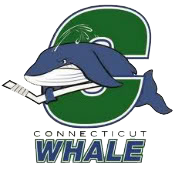 The teams spent no time feeling each other out; just 62 seconds in to the squads' fourth and final matchup of the regular season Sean Collins sat for boarding. Near the end of the kill, Kelsey Tessier picked Jordan Hendry's pocket on the blueline and looked to replicate his shorthanded goal from Friday night, aiming for the five hole but being turned away by backstop Igor Bobkov.
Whale goaltender Cam Talbot answered with two big stops on Dan Sexton when the puck deflected in front as the penalty expired, and those plays by Bobkov and Talbot would set the tone for the night.
Norfolk got on the board first with a goal from Pierre-Luc Letourneau-Leblond. At 15:42, a bad angle try snuck past Talbot's left pad. Mat Clark and Sami Vatanen assisted the Levis, Quebec native's ninth of the year. Talbot spoke on the goal after the game, "After that goal I tried to settle down. Maybe should have had that one, I was looking away and I left my post. Just picked myself up and tried to stop the rest."
Two minutes later, Devante Smith-Pelly was called for hooking, and the Whale converted their second man-up try. Mike Vernace catalyzed the goal, knocking down a Norfolk clearing try at the line. He wrapped it underneath for Brandon Mashinter, who returned the pass on the half-boards. Vernace steered it to the middle where Logan Pyett had breathing room in the high slot. He backpedaled and let go a heavy slapshot to earn his fifth of the season and tie the game at one apiece.
The two teams would both rack up penalty minutes in a scoreless second. Steve Eminger played a solid period, hitting the pipe two and a half minutes in, and breaking up a three on one as time wound down.
The Whale kill was busy again in the third as well, but ended up a perfect seven for seven on the night. In the last minute of the period, Bobkov came up with a handful of tremendous saves, including one moving right to left on a Mashinter-Kris Newbury connection.
Newbury and Rod Pelley were put in the box for coincidental roughing minors 1:49 in to overtime. With three skaters on per side, Segal won a neutral zone draw and Sean Collins fed the puck down the wall for Pyett to break in. From the end boards, Pyett shoveled a pass to Collins, who quickly crossed it for Segal. Segal had to take two swings at it, but the rebound left out by Bobkov gave the Whale's number 26 his seasons 14th to seal the deal. "It was a great pass by Collins and a great forecheck by [Pyett]," Segal said afterwards. "It was a great win and we want to keep it going. Bobkov played great for them, Talbs (Talbot) too, gotta love playing games like that. And we can't get too high or too low, it's cliché but it's true. Every point is so important."
Head Coach Ken Gernander, speaking of the goal and the game, said, "[Segal] clutched it for a little bit but had enough poise to find the empty net there. Five-man units were tricky tonight with all the penalties.
Talbot would finish with 26 saves in his 39th appearance of the year, while Bobkov turned away 33 of 35. The goaltenders earned Second and Third Star honors, respectively. Connecticut will be back in action Sunday afternoon at 3 p.m. against the Manchester Monarchs to close out the three-game home weekend.
To continue reading, please click on the continue reading button below if you're on the home page.
Norfolk Admirals 1 at Connecticut Whale 2 (OT)
Saturday, February 16, 2013 – XL Center Veterans Memorial Coliseum
Norfolk 1 0 0 0 – 1
Connecticut 1 0 0 1 – 2
1st Period-1, Norfolk, Letourneau-Leblond 2 (Clark, Vatanen), 15:42. 2, Connecticut, Pyett 5 (Vernace, Mashinter), 18:45 (PP). Penalties-Collins Ct (boarding), 1:02; Brittain Nor (roughing), 9:25; Smith-Pelly Nor (hooking), 17:35.
2nd Period- No Scoring. Penalties-Yogan Ct (high-sticking), 2:46; Mitchell Nor (fighting), 6:26; Haley Ct (instigating, fighting, misconduct – instigating), 6:26; Kurtz Nor (fighting), 9:09; McIlrath Ct (fighting), 9:09; McMillan Nor (tripping), 12:58; Pelley Nor (hooking), 16:24; Yogan Ct (hooking), 17:52.
3rd Period- No Scoring. Penalties-Yogan Ct (interference), 2:53; Parent Nor (holding), 9:29; Pyett Ct (goaltender interference), 9:29; Collins Ct (hooking), 12:26.
OT Period-3, Connecticut, Segal 14 (Collins, Pyett), 2:08. Penalties-Pelley Nor (roughing), 1:49; Newbury Ct (roughing), 1:49.
Shots on Goal-Norfolk 11-7-9-0-27. Connecticut 14-6-11-4-35.
Power Play Opportunities-Norfolk 0 / 7; Connecticut 1 / 5.
Goalies-Norfolk, Bobkov 10-14-0 (35 shots-33 saves). Connecticut, Talbot 19-19-1 (27 shots-26 saves).
A-5,825
Referees-Trent Knorr (44), Chris Brown (86).
Linesmen-Luke Galvin (2), Derek Wahl (46).
Follow Ian on Twitter @soxanddawgs. And be sure to like us on Facebook as well.