St. John's, Nfld., February 10, 2013 – Micheal Haley scored two goals to key a four-goal first period for the Connecticut Whale Sunday at Mile One Centre, and the Whale defeated the St. John's IceCaps 7-3, to sweep a two-game series between the two teams.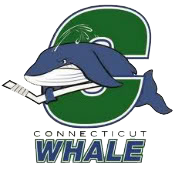 Kris Newbury added a goal and two assists for the Whale, and Andrew Yogan, Kyle Jean and Jyri Niemi had a goal and an assist each. Cam Talbot made 25 saves.
"We came out well, had a good start and got a lead, and that's huge," Whale head coach Ken Gernander said. "[Haley] is a hard-nosed, heart and soul guy, and to see him get rewarded there with some points is great."
The Whale got the offense going early in their first-period burst, as Haley scored his first goal of the game only 68 seconds in. St. John's starting goaltender Mark Dekanich couldn't settle down Mike Vernace's shot from the left point, and Haley backhanded in the rebound.
Haley struck again at 4:03 with the teams skating four-on-four, again on the rebound. Dekanich kicked a shot from off of right wing by Brandon Segal right out into the slot, and it came right to the stick of Haley, who buried it for a 2-0 Whale lead.
The assist on that goal for Segal gave the veteran winger a seven-game point-scoring streak, which ties a Whale season high.
The Connecticut power play then put up a couple of quick strikes, starting with a five-on-three goal by Newbury at 12:01. A centering pass by Newbury hit a St. John's defender and slid past Eddie Pasquale, who had replaced Dekanich after the second Whale goal.
Only 1:18 thereafter, at 13:19, Nick Palmieri scored another man-advantage goal for the Whale, getting his first point in three games in a Whale uniform. Newbury found Palmieri between the hash marks with a pass, and Palmieri's quick shot got between Pasquale's legs.
Jason Jaffray got St. John's on the board with 1:33 left in the period, with his first of two goals in the game. The IceCap captain was able to deflect a pass from the right-wing boards by Will O'Neill past Talbot.
Up 4-1 going into the second period, the Whale made it a 5-1 advantage at 10:54 of the second, on Jean's ninth goal of the season. Andrew Carroll got his first Whale point with the primary assist, as he threw the puck at the net from the left-wing side, and it got away from Pasquale and landed right in the goal crease for Jean to bang in.
Kevin Clark cut it to 5-2 at 14:34, converting a centering pass from Aaron Gagnon, but the Whale responded only 33 seconds later with Yogan's third goal of the year.
After Jean won a faceoff to Pasquale's left and pushed the puck to Yogan, Pasquale stopped an initial Yogan try, but the Whale rookie dove across the goalmouth and pushed the rebound inside the far post.
Jaffray netted his second of the game on an IceCap power play at 19:13, taking a Ben Maxwell pass along the goal line and beating Talbot with a sharp-angle shot, but the Whale got the only goal of the third period, despite being outshot 12-5 in the frame.
It was Niemi, in just his second game back up with the Whale from Greenville of the ECHL, completing the scoring at 5:04 of the third, with his first AHL goal of the year. Niemi's shot from the left point hit a defender to Pasquale's right and deflected into the goal.
The win raised the Whale back above the .500 mark, to 22-21-4-2 for 50 points, and moved them into a tie with the Worcester Sharks for the last playoff spot in the Eastern Conference. Prior to Saturday night's 4-1 win over the IceCaps, the Whale had been 0-4-1-0 in five meetings with St. John's.
The Whale now return to the XL Center for a four-game homestand, starting this Friday night, February 15 with a 7:00 PM game vs. the Portland Pirates. As at all Friday-night Whale home games, fans that night can enjoy $1 hot dogs and $2 beers at the XL Center until the end of the first intermission.
For all Whale home games, tickets start as low as $10 each ($12 each when tickets are purchased on the day of the game), at the Public Power Ticket Office at the XL Center, through TicketMaster Charge-by-Phone at 1-800-745-3000 and on-line at www.ticketmaster.com.
To continue reading, please click on the continue reading button below if you're on the home page.
Connecticut Whale 7 at St. John's IceCaps 3
Sunday, February 10, 2013 – Mile One Centre
Connecticut 4 2 1 – 7
St. John's 1 2 0 – 3
1st Period-1, Connecticut, Haley 7 (Vernace, Thomas), 1:08. 2, Connecticut, Haley 8 (Segal, Parlett), 4:03. 3, Connecticut, Newbury 17 (Pyett, Vernace), 12:01 (PP). 4, Connecticut, Palmieri 11 (Newbury, Niemi), 13:19 (PP). 5, St. John's, Jaffray 9 (O'Neill, Gagnon), 18:27. Penalties-Mashinter Ct (fighting), 0:51; Machacek Stj (fighting), 0:51; Pelech Ct (goaltender interference), 3:00; Melchiori Stj (boarding), 3:00; O'Neill Stj (delay of game), 6:12; Melchiori Stj (tripping), 10:06; Chiarot Stj (slashing, unsportsmanlike conduct), 11:36; Jean Ct (high-sticking), 18:43.
2nd Period-6, Connecticut, Jean 9 (Carroll, Yogan), 10:54. 7, St. John's, Clark 6 (Gagnon, Meech), 14:34. 8, Connecticut, Yogan 3 (Jean), 15:07. 9, St. John's, Jaffray 10 (Maxwell, O'Neill), 19:14 (PP). Penalties-Haley Ct (roughing, fighting), 4:15; Sawada Stj (fighting), 4:15; Klingberg Stj (goaltender interference), 8:42; Macenauer Stj (cross-checking), 15:25; Klassen Ct (tripping), 18:01.
3rd Period-10, Connecticut, Niemi 1 (Newbury), 5:04. Penalties-Tessier Ct (tripping), 1:31; Pelech Ct (holding), 8:06; Mouillierat Stj (roughing), 19:10.
Shots on Goal-Connecticut 13-7-5-25. St. John's 8-8-12-28.
Power Play Opportunities-Connecticut 2 / 7; St. John's 1 / 5.
Goalies-Connecticut, Talbot 17-19-1 (28 shots-25 saves). St. John's, Dekanich 7-8-0 (5 shots-3 saves); Pasquale 14-19-2 (20 shots-15 saves).
A-6,287
Referees-David Banfield (77), Keith Kaval (40).
Linesmen-Todd Horwood (34), Jim Vail (5).
Follow Ian on Twitter @soxanddawgs. And be sure to like us on Facebook as well.