By Wil Goldsholl
Hartford, CT, December 5, 2012 – After suffering three losses in three nights over the weekend, Connecticut Whale coach Ken Gernander was looking for a more "buttoned-up performance" Wednesday, and he got it, mostly.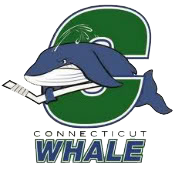 Despite frequent trips to the penalty box, the Connecticut Whale pulled out a 4-2 win over the in-state rival Bridgeport Sound Tigers at the XL Center. J.T. Miller scored his third and fourth goals of the year, while Kelsey Tessier netted his first.
It took all of 12 seconds for Kris Newbury to earn the game's first minor for hooking, which was not the ideal start to the night fresh off the weekend that left the Whale a point behind the Bridgeport squad in the Northeast division standings.
Connecticut would not give up much ground during the penalty kill. They allowed three shots and turned the momentum in their favor once Newbury was released.
With a quality cycle from the Ryan Bourque- Tessier-Tommy Grant line developing early, the Whale scored first, on their first shot on goal. Grant slapped the puck down the wall behind Sound Tiger backstop Anders Nilsson. Bourque, after a grind on the end boards, found Tessier ahead of the short-side post. Tessier sent a far-side laser to mark his first of the season at 3:46.
Less than five minutes later, Hartford got another look at Bridgeport's power play when Matt Gilroy closed his hand on the puck for a trip to the sin bin. Despite strong puck movement on the perimeter by the Sound Tigers, they could not generate any chances, other than steering one puck towards Cam Talbot as Gilroy was being released.
Penalties continued to stack up against Connecticut, with Sean Collins being sent off for hooking at 11:15. Once again, the Whale PK unit accomplished their primary goals of keeping shots to the outside while completely occupying the slot in their defensive end.
The fourth time was not the charm when Blake Parlett was found guilty of high-sticking with under five minutes left in the period. The Bridgeport game-tier came out of a half-board scrum when Colin McDonald got a feed from Nino Niederreiter, then left the puck in the high slot for a big drive from Jon Landry, a product of Division III Bowdoin College.
Brandon Segal answered 21 seconds later, with a mean snapshot of his own for his 6th of the year. Marek Hrivik earned the primary assist when he wedged the puck off the half boards, and Kyle Jean was credited with the secondary. The Whale took a 2-1 lead into the break.
The second period picked up right where the first left off with great transition hockey. Chris Kreider went coast to coast and hit Chad Kolarik with a handy pass in the first minute. Kolarik would ring it off the pipe.
As the puck was being brought up-ice on a delayed penalty, a fight broke out at center between Segal and Brandon DeFazio. The original penalty was going to be Segal for boarding. He was also given a fighting major. DeFazio received five for fighting and was ejected. He received a Game Misconduct for leaving the bench for an altercation.
During the ensuing power play a shorthanded chance sent Nilsson sprawling. McIver was called for interference as the Sound Tigers attacked in transition. Marek Hrivik's hooking penalty cancelled out the abbreviated Whale power play after that.
The last five minutes of the second were all Bridgeport, though. They sustained pressure for most of the time and eventually capitalized. Johan Sundstrom fed Matt Donovan, who connected cleanly with John Persson in the slot. The quick wrister found the twine and the game was tied with 1:43 left in the period.
Miller was awarded first star in the game, and rightfully so. His first of two goals came just 1:41 in to the third period. He notched the second of the night just three minutes later. Christian Thomas delivered to Micheal Haley. Haley fed the puck to the half boards where Miller fought off Jordan Hill and McIver. He made one more shake move on his way to the crease and walked around a helpless Nilsson for the score. Bridgeport would be forced to call a timeout.
Each team generated a few more flurries of chances. Cam Talbot fought off a puck that Newbury tipped. Newbury also fed Kolarik for a one-timer, on which Nilsson came up with a big save that gave his team a chance to stay in the game halfway through the third.
Penalties from Niederreiter for holding and Sean Backman for slashing late in the period would put Bridgeport out of it.
With the win, Connecticut moves one point ahead of Bridgeport in the division.
Talbot finished with 17 stops while Nilsson turned away 19 of the 23 he faced.
To continue reading, please click on the continue reading button below if you're on the home page.
Bridgeport Sound Tigers 2 at Connecticut Whale 4
Wednesday, December 5, 2012 – XL Center Veterans Memorial Coliseum
Bridgeport 1 1 0 – 2
Connecticut 2 0 2 – 4
1st Period-1, Connecticut, Tessier 1 (Bourque, Grant), 3:46. 2, Bridgeport, Landry 5 (McDonald, Niederreiter), 16:34 (PP). 3, Connecticut, Segal 6 (Hrivik, Jean), 16:55. Penalties-Newbury Ct (hooking), 0:12; Gilroy Ct (closing hand on puck), 8:27; Collins Ct (hooking), 11:15; Parlett Ct (high-sticking), 15:02; Sundstrom Bri (slashing), 17:28.
2nd Period-4, Bridgeport, Persson 6 (Watkins, Donovan), 18:17. Penalties-DeFazio Bri (fighting, game misconduct – leaving the bench), 1:58; Segal Ct (boarding, fighting), 1:58; McIver Bri (goaltender interference), 4:29; Hrivik Ct (hooking), 5:46.
3rd Period-5, Connecticut, Miller 3 1:41. 6, Connecticut, Miller 4 (Haley, Thomas), 4:39. Penalties-Niederreiter Bri (holding), 13:07; Backman Bri (slashing), 18:07.
Shots on Goal-Bridgeport 9-6-4-19. Connecticut 7-8-8-23.
Power Play Opportunities-Bridgeport 1 / 6; Connecticut 0 / 4.
Goalies-Bridgeport, Nilsson 4-4-0 (23 shots-19 saves). Connecticut, Talbot 8-6-0 (19 shots-17 saves).
A-2,028
Referees-Jon McIsaac (45), Geoff Miller (28).
Linesmen-Brent Colby (7), Jim Briggs (83).
Follow Ian on Twitter @soxanddawgs. And be sure to like us on Facebook as well.