Springfield, MA, November 25, 2012 – Ryan Bourque's goal with 15.6 seconds left in the third period gave the Connecticut Whale a 3-2 win over the Springfield Falcons Sunday at the MassMutual Center.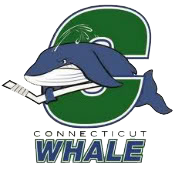 The victory extended a Whale win streak to four games and lifted Connecticut to two games above .500 for the first time on the season, at 9-7-1-0 for 19 points.
With the game seemingly headed for overtime, Kelsey Tessier broke up a Matt Calvert feed inside the Whale zone and sent Bourque up left wing. Bourque unloaded a shot from an extreme angle, and it found its way between Springfield goaltender Paul Dainton's right arm and his body for the winner.
Bourque also had an assist for the Whale, which also got goals from Matt Gilroy and Marek Hrivik. Jason Missiaen made 32 saves in the Connecticut net, after Cam Talbot had started the previous 11 straight. Sean Collins scored both Springfield goals, with Jonathan Audy-Marchessault assisting on both, and Dainton stopped 23 shots.
The Whale, who had never led in two previous losses to Springfield, opened the scoring just 2:23 into Sunday's game, on Gilroy's sixth goal of the season and third in the last three games.
Tommy Grant worked the puck out of the left-wing corner to Gilroy, and he weaved across the slot before jamming the puck past a sprawling Dainton.
Springfield tied it at 6:29, with Collins poking his own rebound past Missiaen and into the Whale net, after Collins stepped out from below the goal line to Missiaen's left.
It took the Whale only 1:38 to regain the lead, as Hrivik, who had nine assists in 14 games but no goals, scored his first of the year at 8:07. Dainton stopped Blake Parlett's drive from the right point, but the rebound deflected right to Hrivik at the bottom of the left circle, and he banged a shot into the top corner.
That lead stood up until the 15:11 mark of the second period, when Collins scored his second of the game to tie it for the Falcons. David Savard sent Collins down left wing with a pass, and Collins was able to speed outside the Whale defense and fire a shot off of Missiaen and up under the crossbar.
The Whale are now off until this Friday night, November 30, when they finish a stretch of seven out of nine games on the road with a visit to Providence to take on the Bruins (7:05 PM faceoff, "Beethoven Radio" AM 1290, www.ctwhale.com). After that, seven of the next eight for the Whale are at home, starting with a battle this Saturday against the Syracuse Crunch. That game faces off at 7:00, and the first 3,000 fans receive a Whale poster, courtesy of SuperCuts.
Tickets for all Whale regular season home games at the XL Center are on sale now at the Public Power Ticket Office at the XL Center, through TicketMaster Charge-by-Phone at 1-800-745-3000 and on-line at www.ticketmaster.com.
To continue reading, please click on the continue reading button below if you're on the home page.
Connecticut Whale 3 at Springfield Falcons 2
Sunday, November 25, 2012 – MassMutual Center
Connecticut 2 0 1 – 3
Springfield 1 1 0 – 2
1st Period-1, Connecticut, Gilroy 6 (Bourque, Grant), 2:23. 2, Springfield, Collins 3 (Johansen, Audy-Marchessault), 6:29. 3, Connecticut, Hrivik 1 (Parlett, Kolarik), 8:07. Penalties-Johansen Spr (high-sticking), 3:58; Collins Ct (delay of game), 9:15; Drazenovic Spr (checking to the head), 16:59.
2nd Period-4, Springfield, Collins 4 (Savard, Audy-Marchessault), 15:11. Penalties-Erixon Spr (tripping), 6:10.
3rd Period-5, Connecticut, Bourque 4 (Tessier), 19:44. Penalties-Segal Ct (tripping), 8:13; Newbury Ct (interference), 11:12.
Shots on Goal-Connecticut 10-5-11-26. Springfield 9-12-13-34.
Power Play Opportunities-Connecticut 0 / 3; Springfield 0 / 3.
Goalies-Connecticut, Missiaen 2-2-0 (34 shots-32 saves). Springfield, Dainton 1-2-1 (26 shots-23 saves).
A-2,898
Referees-Chris Ciamaga (24), Graham Skilliter (48).
Linesmen-Jim Briggs (83), Rich Patry (52).
Follow Ian on Twitter @soxanddawgs. And be sure to like us on Facebook as well.