Bridgeport, CT, November 23, 2012 – The Connecticut Whale scored four third-period goals Friday night at Webster Bank Arena, to wipe out a 5-3 deficit and defeat the Bridgeport Sound Tigers by a score of 7-5.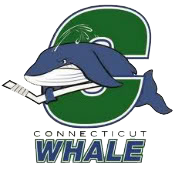 Chris Kreider scored a pair of goals for the Whale, including the game-winner, for his first multiple-goal game as a pro, and Matt Gilroy also scored twice. Chad Kolarik had a goal and two assists, and Kris Newbury added a goal and an assist. Johan Sundstrom had two goals and an assist for Bridgeport, which also got a goal and two assists from David Ullstrom and a goal and an assist from John Persson.
The win was the first in three tries for the Whale against Bridgeport, and got Connecticut back to the .500 mark at 7-7-1-0 for 15 points.
For the third time in three games between the two teams, the Whale jumped out to a two-goal lead, only to see Bridgeport come back.
Kreider got the Whale on the board early, scoring at 1:39 of the first. Kreider moved down left wing and snapped a shot just over Bridgeport goaltender Anders Nilsson's catching glove.
Tommy Grant then scored his sixth goal of the year, good for a share of the team lead, at 12:23, to give the Whale a two-goal edge. Kelsey Tessier worked the puck out of the left-wing corner to the front of the net, and Kolarik got a poke at it. Kolarik's try was blocked right to Grant at the right side of the goalmouth, and Grant had plenty of room to put it past Nilsson (27 saves).
The Sound Tiger power play, though, got that goal back only 2:04 later, with Blake Parlett in the penalty box for boarding. Aaron Ness passed the puck from the right point to Ullstrom below the faceoff dot, and Ullstrom was able to get Whale netminder Cam Talbot (36 saves) to come off the post, before firing a shot into the top shelf on the stick side.
The period ended with the Whale up 2-1, but Bridgeport got a pair early in the second frame to jump ahead.
Persson scored his fifth of the season at 1:36 to make it a 2-2 game. After a Whale breakout pass failed to click, Ullstrom fed a pass off of right wing into the slot and Persson shoveled it past Talbot from close range.
Sean Backman then gave the Sound Tigers a 3-2 lead at 4:11. The Sound Tigers turned the puck quickly after breaking up a Whale pass at the Bridgeport blue line, and Backman put on a burst of speed to get past the Connecticut defense before beating Talbot over the catching glove.
Newbury, back in the Whale lineup after missing the previous two games with an injury, tied it back up for the Whale at 8:19, just two seconds after a Whale power play expired. Newbury finished off a perfect give-and-go with Kolarik, who found Newbury in front for a shot past Nilsson's stick side.
The second period ended in a 3-3 deadlock, but the Sound Tigers would jump in front again early in the third, with the Persson-Sundstrom-Ullstrom line clicking twice more.
Sundstrom finished the play both times, first at 4:02, when Talbot was jammed up and a loose puck came right to Sundstrom at the left side of the goal crease for an easy finish. Then, Bridgeport was rewarded for crashing the crease again at 7:36, when Sundstrom backhanded in a rebound from right on top of Talbot.
Down 5-3 at that point, the Whale would come storming back, starting with a goal by Gilroy at 8:33, just 57 seconds after Sundstrom's second goal. After being stopped by Nilsson seconds earlier, Gilroy launched a second drive from the left point, and the shot found its way past Nilsson with Tessier screening.
Kolarik tied the score at 13:30 after Newbury won a faceoff. Parlett lifted the puck toward the back of the net, and the Whale got a break when it hopped off the end boards right into the goal crease. Kolarik was the first to see it, and he jammed it behind Nilsson.
The Whale grabbed the lead 1:57 later, as Kreider got his second of the game on a shot from the slot. Sean Collins made a strong play at the left point to out-battle a Sound Tiger and keep the puck in, feeding to Logan Pyett and the right-wing faceoff dot. Pyett's pass gave Kreider time to measure his shot, and his hard salvo went by the stick side of Nilsson, who had lost his stick.
Gilroy then sealed the issue on a power play at 17:54. Marek Hrivik passed across the slot from the left faceoff dot to Gilroy, and his high shot went under the crossbar behind Nilsson.
The Whale are back on home ice at the XL Center Saturday night, hosting the defending Calder Cup-champion Norfolk Admirals, and fans can enjoy a doubleheader of hockey action at the XL Center. Prior to Whale vs. Admirals at 7:00, the UConn Men's Hockey Huskies will take on Air Force in an NCAA Division I hockey battle. That game faces off at 3:30, and one ticket is good for both the college game and the Whale game. The XL Center will serve as UConn's home ice for Hockey East contests when the Men's Huskies join the nation's most prestigious conference in 2014-15.
Tickets for all Whale regular season home games at the XL Center are on sale now at the Public Power Ticket Office at the XL Center, through TicketMaster Charge-by-Phone at 1-800-745-3000 and on-line at www.ticketmaster.com.
To continue reading, please click on the read more button below if you're on the home page.
Connecticut Whale 7 at Bridgeport Sound Tigers 5
Friday, November 23, 2012 – Webster Bank Arena
Connecticut 2 1 4 – 7
Bridgeport 1 2 2 – 5
1st Period-1, Connecticut, Kreider 3 (Segal), 1:39. 2, Connecticut, Grant 6 (Tessier, Kolarik), 12:23. 3, Bridgeport, Ullstrom 3 (Ness, Sundstrom), 14:27 (PP). Penalties-DeFazio Bri (holding), 3:23; Newbury Ct (fighting), 8:06; Watkins Bri (fighting), 8:06; Jean Ct (holding), 9:26; Parlett Ct (boarding), 14:15.
2nd Period-4, Bridgeport, Persson 5 (Ullstrom), 1:36. 5, Bridgeport, Backman 1 (Clark), 4:11. 6, Connecticut, Newbury 6 (Kolarik, Pyett), 8:19. Penalties-Haley Ct (fighting), 0:24; Gallant Bri (fighting), 0:24; McIver Bri (interference), 6:17; DeFazio Bri (hooking), 11:41.
3rd Period-7, Bridgeport, Sundstrom 4 4:02. 8, Bridgeport, Sundstrom 5 (Persson, Ullstrom), 7:36. 9, Connecticut, Gilroy 4 (Bourque, Miller), 8:33. 10, Connecticut, Kolarik 3 (Parlett, Newbury), 13:30. 11, Connecticut, Kreider 4 (Pyett, Collins), 15:27. 12, Connecticut, Gilroy 5 (Hrivik, Jean), 17:54 (PP). Penalties-Parlett Ct (roughing), 14:03; Niederreiter Bri (roughing), 14:03; Backman Bri (slashing), 16:49.
Shots on Goal-Connecticut 9-10-15-34. Bridgeport 11-18-12-41.
Power Play Opportunities-Connecticut 1 / 4; Bridgeport 1 / 2.
Goalies-Connecticut, Talbot 6-4-0 (41 shots-36 saves). Bridgeport, Nilsson 4-1-0 (34 shots-27 saves).
A-8,285
Referees-Chris Cozzan (18).
Linesmen-Paul Simeon (66), Brent Colby (7).
Follow Ian on Twitter @soxanddawgs. And be sure to like us on Facebook as well.