Albany, NY, November 2, 2012 – Cam Talbot tied his pro career high with 43 saves, and went five-for-five in the shootout, Friday night at the Times Union Center, as the Connecticut Whale defeated the Albany Devils by a score of 2-1.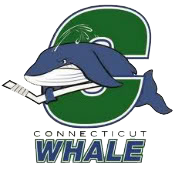 The Whale won their fourth straight game, despite being outshot 44-16 on the night. Christian Thomas scored for Connecticut, and Matt Gilroy got the only goal of the shootout. Mattias Tedenby tallied the lone Devil goal.
It was the second win in Albany in ten days for the Whale, who earned their first win of the season last Wednesday over the Devils, 5-2.
After a rebound shot by Albany's Adam Henrique on the game's first shift hit the crossbar behind Talbot, the Devils came back and did take the game's first lead at 4:30. David Wohlberg won a neutral-ice faceoff and Tedenby headed quickly up the right side of the slot, fending off Sam Klassen's check and putting a backhand shot past Talbot's stick side.
That would be the only puck to get behind the Whale goaltender all night, though, and Connecticut tied the score at the 18:05 mark, when Thomas got his second of the season, just seconds after he had put a shot off the crossbar. After Thomas' first bid missed, Tommy Grant kept the puck in the Devil zone and found a wide-open Thomas with a cross-slot feed for an easy finish.
Talbot was especially sharp in the second period, when Albany outshot the Whale 18-2, and Connecticut had to kill four penalties in the third frame. A Devil power play carried over into the overtime, in which Albany got the only three shots credited and hit a crossbar.
The Devils deferred to the Whale to shoot first in the shootout, and Gilroy, Connecticut's leadoff man, put a shot past the glove side of Albany goaltender Jeff Frazee for what would turn out to be the deciding score.
Talbot stopped Tedenby, Wohlberg, Bobby Butler, Henrique and Jacob Josefson, and Frazee would recover to deny the Whale's Chris Kreider, Kris Newbury, Brandon Segal and Chad Kolarik.
The Whale are now 4-3-1-0 on the year, after starting 0-3-1-0 in their first four games.
The Whale's next action is on home ice at the XL Center this Sunday, November 4 against their I-91 rivals the Springfield Falcons. Faceoff is 7:00 PM, and, as at all Sunday home games this season, fans can take advantage of "Click It or Ticket Sunday Family Value Packs". A package consisting of a ticket, a hot dog or slice of pizza and a soda is only $18. Tickets for that game, and all Whale regular season home games at the XL Center, are on sale now at the Public Power Ticket Office at the XL Center, through TicketMaster Charge-by-Phone at 1-800-745-3000 and on-line at www.ticketmaster.com.
To continue reading, please click on the continue reading button below if you're on the home page.
Connecticut Whale 2 (SO) at Albany Devils 1
Friday, November 2, 2012 – Times Union Center
Connecticut 1 0 0 0 – 2
Albany 1 0 0 0 – 1
1st Period-1, Albany, Tedenby 2 (Wohlberg), 4:30. 2, Connecticut, Thomas 2 (Grant, Haley), 18:05. Penalties-Klassen Ct (boarding), 5:06; served by Hoeffel Alb (bench minor – too many men), 9:27.
2nd Period- No Scoring.Penalties-Kreider Ct (cross-checking), 8:24; Yogan Ct (fighting), 17:07; Corrente Alb (cross-checking), 17:07; Kelly Alb (fighting), 17:07; Jean Ct (tripping), 18:16.
3rd Period- No Scoring.Penalties-Kreider Ct (hooking), 3:54; Newbury Ct (cross-checking), 7:32; Kreider Ct (cross-checking), 10:29; Wohlberg Alb (hooking), 13:07; Kreider Ct (high-sticking), 19:24.
OT Period- No Scoring. Penalties-No Penalties
Shootout – Connecticut 1 (Gilroy G, Kreider NG, Newbury NG, Segal NG, Kolarik NG), Albany 0 (Tedenby NG, Wohlberg NG, Butler NG, Henrique NG, Josefson NG).
Shots on Goal-Connecticut 6-2-7-0-1-16. Albany 12-18-11-3-0-44.
Power Play Opportunities-Connecticut 0 / 3; Albany 0 / 7.
Goalies-Connecticut, Talbot 3-0-0 (44 shots-43 saves). Albany, Frazee 1-1-1 (15 shots-14 saves).
A-5,324
Referees-Chris Brown (86), Dave Lewis (46).
Linesmen-Kevin Redding (16), Derek Wahl (46).