Albany, NY, October 24, 2012 – The Connecticut Whale earned their first win in five games on the season Wednesday night at the Times Union Center, scoring five straight goals after giving up the first goal of the game, on the way to a 5-2 victory over the Albany Devils.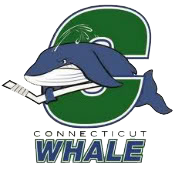 Brandon Segal had a goal and an assist to lead the Whale, J.T. Miller, Tommy Grant and Andrew Yogan all scored their first goals of the season, and Kyle Jean also scored. Chad Kolarik had two assists, and Jason Missiaen made 31 saves to get his first career AHL win. Mike Hoeffel and Jacob Josefson scored for Albany.
The Devils struck first, with a goal late in the first period. Hoeffel fought off Sean Collins' check in the slot and stuffed a loose puck past the stick side of Missiaen at 17:44, after Matt Anderson's shot from near the blue line was blocked.
The Whale, however, would dominate the second period on the scoreboard, tallying three times against Devil goaltender Keith Kinkaid (21 saves).
The first two came in a span of 61 seconds, starting at 8:56 when Segal got his third of the season. After intercepting an Albany pass in center ice, Segal tried to push his way past Albany defender Matthew Corrente to the front of the net off left wing. The puck went off Segal's stick, but slipped through Kinkaid's pads and just over the goal line.
Then, at 9:57, Miller made a nice individual effort to score his first pro goal. A pass by Kolarik sent Miller into the offensive zone and Miller made a slick move in the slot to get past Devil defenseman Adam Larsson, before beating Kinkaid with a deke to the forehand.
Grant made it 3-1 for the Whale at 18:46, capitalizing on a mistake by rookie Devil blueliner Raman Hrabarenka. Hrabarenka fumbled the puck away in his own zone, allowing Grant to break in alone and beat Kinkaid through the legs.
Yogan scored on a power play at 9:18 at the third to up the margin to 4-1, taking a pass from Kolarik and putting a shot past Kinkaid's catching glove from the top of the left circle. The Whale's fifth straight goal in the game was Jean's team-leading fourth of the year, as he finished a nice three-way passing play at 12:11, after being set up by Marek Hrivik.
Albany got one goal back on a power play at 16:42, with Josefson connecting from the left circle off of a feed from Hrabarenka, but the Devils could get no closer, and the Whale improved to 1-3-1 on the year.
The Whale's next action is on home ice at the XL Center this Friday, October 26 against the Hershey Bears. Faceoff is 7:00 PM, and, as at all Friday home games this season, fans can enjoy $1 hot dogs and $2 beers until 8:00. Also, as a special treat, all fans at this Friday's game will receive a voucher for a free hot dog. Tickets for that game, and all Whale regular season home games at the XL Center, are on sale now at the Public Power Ticket Office at the XL Center, through TicketMaster Charge-by-Phone at 1-800-745-3000 and on-line at www.ticketmaster.com.
To continue reading, please click on the continue reading button below if you're on the home page.
Connecticut Whale 5 at Albany Devils 2
Wednesday, October 24, 2012 – Times Union Center
Connecticut 0 3 2 – 5
Albany 1 0 1 – 2
1st Period-1, Albany, Hoeffel 2 (Anderson, Kelly), 17:44. Penalties-Newbury Ct (cross-checking, unsportsmanlike conduct, misconduct – abuse of officials), 0:38; Hoeffel Alb (interference), 9:46; Leach Alb (interference), 18:02.
2nd Period-2, Connecticut, Segal 3 8:56. 3, Connecticut, Miller 1 (Kolarik, Tessier), 9:57. 4, Connecticut, Grant 1 18:46. Penalties-Larsson Alb (tripping), 4:37; Hrivik Ct (holding), 14:27; Tedenby Alb (hooking), 14:27.
3rd Period-5, Connecticut, Yogan 1 (Kolarik, Pyett), 9:18 (PP). 6, Connecticut, Jean 4 (Hrivik, Segal), 12:11. 7, Albany, Josefson 3 (Hrabarenka, Tedenby), 16:42 (PP). Penalties-Larsson Alb (hooking), 0:22; Collins Ct (boarding), 3:09; Zalewski Alb (cross-checking), 8:24; served by Grant Ct (bench minor – too many men), 15:51.
Shots on Goal-Connecticut 10-11-5-26. Albany 12-9-12-33.
Power Play Opportunities-Connecticut 1 / 5; Albany 1 / 4.
Goalies-Connecticut, Missiaen 1-2-0 (33 shots-31 saves). Albany, Kinkaid 1-2-0 (26 shots-21 saves).
A-2,593
Referees-David Banfield (77).
Linesmen-Mike Emanatian (69), Steeve Lemay (64).
Follow Ian on Twitter @soxanddawgs. And be sure to like us on Facebook as well.