By Wil Goldsholl
Hartford, CT, January 25, 2013 - In the teams' third meeting of the season, the Connecticut Whale defeated the Manchester Monarchs 4-1 at the XL Center in Hartford on Friday night. Brandon Segal earned First Star honors, tallying a goal and an assist, and Benn Ferriero had a secondary assist in his first game playing for Connecticut. Ferriero was acquired in a trade with the Pittsburgh Penguins Thursday for Chad Kolarik, and was reunited with former Worcester linemate Brandon Mashinter, also new to the team by way of trade.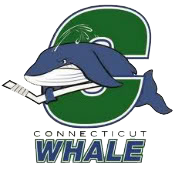 The top line of Ferriero, Mashinter and Segal made their presence felt early, earning a handful of chances in the early minutes. Following a Segal slapshot, Manchester's Andrew Campbell was called for high sticking and the Whale's first power play ensued. Forty-four seconds in to that man advantage the Whale's Micheal Haley was called for interference, while Manchester's Nick Deslauriers sat for high-sticking simultaneously. Not many chances came out of the five on four situation.
Manchester saw their first power play opportunity at 9:21 when Kelsey Tessier put his stick in the midsection of Robert Czarnik as he tried to shoot from the circle. Manchester was not able to generate any quality chances on their first man-up try either.
Both offenses picked up the pace in the middle of the period. Mashinter broke the puck away from Chris Huxley and had a chance near the crease. Ferriero let one go from the high slot moments later. Kris Newbury found Tessier with a high to low pass with six minutes to play in the first, and then the Monarchs' Tanner Pearson slapped one off the pipe 30 seconds later. Segal was on Manchester backstop Peter Mannino's doorstep as the clock read four minutes, and Mannino's stick was broken on the play. He would play the next minute and a half stickless, making two more saves in the process.
David Meckler dumped Andrew Yogan on the half-boards with 2:33 left and Connecticut had better fortune on the next power play. Receiving a high to low pass with 34 seconds to go on the advantage, Segal banged it towards the crease. Mashinter was lurking on the other side to gather the rebound with 1:06 left in the period. Ferriero earned the secondary assist on Mashinter's fourth of the year.
Christian Thomas grinded for two chances in last 30 seconds, foreshadowing his second-period performance, and the first ended with the Whale leading 1-0.
Two and a half minutes into the second, Manchester's leading point-getter, Linden Vey, received a cross-ice feed from Tyler Toffoli. The puck made its way from the point to the slot to the top right corner and the game was tied on Vey's 11th of the year.
The Whale jumped to a 2-1 lead when Thomas barreled in on the forecheck again. He was able to fight off one defender behind the net and sling the puck in front. Monarch defender David Kolomatis was there on the crease and inadvertently redirected it past Mannino inside the stick-side post. Segal spoke on the goal after the game, "You never really mean for that, but he was rewarded for his good forechecking; Christian was wheeling out there tonight." Head Coach Ken Gernander would express the same sentiments about the young forward's performance.
Pace picked up after the goal; Newbury drove a puck off the iron as squarely as possible, Manchester's Andrei Loktionov made a big hit behind his own net, and Whale goaltender Cam Talbot made a timely stop on a Brandon Kozun one-timer.
With seven to go in the period, strong puck movement paid off for Connecticut. Tessier, Newbury, and Blake Parlett got a cycle going. Tessier got the puck down the right wall to Newbury, who rolled out to the point. He slipped the puck between defenders for Segal who beat Mannino on a low angle chance for his season's 12th.
Mashinter and Ferriero went one-two on the Manchester doorstep moments later and Mannino came up with a huge save. Mashinter credited some of the line's success to his and Ferriero's play together in Worcester.
Mike Vernace let one fly from the point in the last minute that Mannino never saw. Through heavy traffic on the left side, the puck somehow found its way to the short-side corner and the Whale took a 4-1 lead with 54.3 seconds on the clock.
Thirty seconds later, Talbot was called upon again to turn away Andy Andreoff's rebound try with a stretching right leg. Anthony Stewart saw one more chance on a tip, but the Whale held on to the three-goal edge through two.
Opening the third, Tessier broke in on the wing and Mannino threw a two-pad stack to turn him away. Jason Wilson intercepted a clearing pass on the point and made a handy move to draw tripping on Deslauriers a minute after that.
With a shot count of just 8-5 in Manchester's favor, the third was slightly slower than the first two, but Connecticut locked down in what was their best home performance of the year. Gernander would add in the post-game, "I'm pleased with everything top to bottom tonight. (Segal's) line was great obviously, Newbury played really well. Cam (Talbot) brought his A-game. Our defense was good and we got a special teams goal."
Talbot finished with 28 saves on 29 tries, while Mannino finished with the 28 as well on 32 shots faced. The Whale prepare for their third game in four nights Saturday night (7:00 PM faceoff), at home, against the division-rival Springfield Falcons.
To continue reading, please click on the continue reading button below if you're on the home page.
Manchester Monarchs 1 at Connecticut Whale 4
Friday, January 25, 2013 – XL Center Veterans Memorial Coliseum
Manchester 0 1 0 – 1
Connecticut 1 3 0 – 4
1st Period-1, Connecticut, Mashinter 4 (Segal, Ferriero), 17:54 (PP). Penalties-Campbell Mch (high-sticking), 5:35; Deslauriers Mch (high-sticking), 7:09; Haley Ct (interference), 7:09; Tessier Ct (hooking), 9:21; Meckler Mch (interference), 17:27.
2nd Period-2, Manchester, Vey 11 (Toffoli), 2:30. 3, Connecticut, Thomas 9 7:32. 4, Connecticut, Segal 12 (Newbury, Parlett), 13:31. 5, Connecticut, Vernace 2 19:05. Penalties-No Penalties
3rd Period- No Scoring. Penalties-Deslauriers Mch (tripping), 6:26.
Shots on Goal-Manchester 12-9-8-29. Connecticut 14-13-5-32.
Power Play Opportunities-Manchester 0 / 1; Connecticut 1 / 3.
Goalies-Manchester, Mannino 10-6-0 (32 shots-28 saves). Connecticut, Talbot 14-17-0 (29 shots-28 saves).
A-4,168
Referees-David Banfield (77).
Linesmen-Brent Colby (7), Jim Briggs (83).
Follow Ian on Twitter @soxanddawgs. And be sure to like us on Facebook as well.