By Wil Goldsholl
Hartford, CT, January 23, 2013 – After 17 days away from home ice, the Connecticut Whale returned to the XL Center and bested the division rival Adirondack Phantoms in Hartford on Wednesday night by a count of 6-5 in overtime. Brandon Segal scored one of his two goals in the extra period to seal the win for Connecticut. Whale newcomer Jason Wilson scored his first goal since joining the team and Brandon Mashinter tallied two assists in addition to his first goal in a Connecticut jersey, since being traded from Worcester. Jason Missiaen stopped 34 of the 39 shots he faced to pick up his fifth win of the season, while Cal Heeter and Brian Boucher split the work in the Adirondack goal on 33 shots against.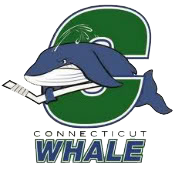 Both teams were slow to get going in the first five minutes; Adirondack's Brandon Manning was sent off for hooking just 32 seconds in and Connecticut blueliner Sean Collins was sentenced to two minutes for slashing when Shane Harper made a move three minutes later.
Connecticut would kill that penalty, however, and draw first blood at 5:39. Kris Newbury pushed the puck around behind the net until it found Chad Kolarik on the half boards. A tap pass and a quick release from Mashinter would beat Heeter over the stick side shoulder, earning Mashinter his third of the season. Coach Ken Gernander said of Mashinter's performance, "He had a couple strong games last weekend… tonight he was able to cash in."
Gameplay became more fluid over the midway point of the period and Heeter would be tested. Kelsey Tessier found Christian Thomas on the doorstep once for a near miss, and Heeter flashed the leather on Mashinter following a beauty of a backhand feed from Newbury.
Things got hairy for Connecticut late in the first when Wilson and Newbury earned hooking and holding penalties, respectively, just 18 seconds apart. Brandon Manning hit the pipe as the first penalty expired. Manning then dished to Danny Syvret along the line for a slapper that found its way home at 15:54. Harry Zolnierczyk was awarded the secondary assist.
Connecticut would see one more man advantage before the first 20 minutes expired. Tessier was hacked by Harper moving up the middle with 3:13 to play. Heeter showed his glove hand prowess yet again on a Thomas one-timer that was redirected by Mashinter. On the ensuing draw, Blake Parlett's shot was blocked, but the puck was touched by J.T. Miller to Segal, who would tuck a snapper five-hole with 2:04 remaining.
The Whale led 2-1 through the first with a 13-11 shot advantage.
Wilson opened scoring in the second, when Thomas snapped down the wing and pulled the trigger. With Cullen Eddy right on top of him, Wilson managed to tuck the puck up into a small window for his first career AHL score.
Then, 7:53 into the period, Collins made a sharp outlet feed from the Whale end. Mashinter broke the puck in and dropped it back for Tessier, who went short-side high from the circle for his seventh of the year.
Following that fourth Whale goal, Heeter was replaced in the Adirondack net by Boucher.
Oliver Lauridsen was called for hooking at 8:47. Missiaen staved off a short-handed flurry before Connecticut replied. Lefty blueliner Mike Vernace slapped at the puck from the center point and Micheal Haley tipped it in the slot. Haley's fourth came at 10:33 on the power play.
Just two minutes later, Zolnierczyk buried a rebound after some chaos in front of the Connecticut crease to make the score 5-2. That goal would be the last scoring play of the period with just over seven minutes to play.
A Jeff Dimmen penalty started the third period 56 seconds in, but did not stop Adirondack's comeback campaign. Rob Bordson took a bank pass from Zolnierczyk and dipsy-doodled Missiaen in the crease for a shorthander at 2:07. The deficit was cut to just two.
With 3:08 to play, Shayne Wiebe was called for high sticking. Missiaen first made some quality saves, but with an empty net and a 6-on-4 situation, Jason Akeson was able to cut the lead to one.
Following Phantoms timeout, Adirondack went right back to work. Marcel Noebels gathered a rebound on his backhand after Manning let one fly form the point. With 20.5 seconds on the clock, the game was now tied at five apiece, after Adirondack's four unanswered goals in reply to Connecticut's four earlier on.
Gernander, who has been preaching the importance of consistency, went on to say, "We're game to game, period to period, and sometimes shift to shift."
Adirondack outshot Connecticut 14-5 in the third period, and 38-30 through regulation.
The extra period trickled by until 70 seconds remained. Segal described the goal in the post-game, "Pyer (Logan Pyett) got it up to Masher (Mashinter), and I saw he chipped it across to Vern (Vernace), and his backhand, unbelievable sauce. I was already charging the net and just tapped it in." With one hand on the stick, Segal was certainly casual receiving Vernace's seeing-eye pass. With 56.8 seconds on the clock, Connecticut took the win, 6-5.
To continue reading, please click on the continue reading button below if you're on the home page.
Adirondack Phantoms 5 at Connecticut Whale 6 (OT)
Wednesday, January 23, 2013 – XL Center Veterans Memorial Coliseum
Adirondack 1 1 3 0 – 5
Connecticut 2 3 0 1 – 6
1st Period-1, Connecticut, Mashinter 3 (Kolarik, Newbury), 5:39. 2, Adirondack, Syvret 2 (Manning, Zolnierczyk), 15:54 (PP). 3, Connecticut, Segal 10 (Miller, Parlett), 17:56 (PP). Penalties-Manning Adk (hooking), 0:32; Collins Ct (slashing), 3:21; Manning Adk (roughing), 7:28; Jean Ct (roughing), 7:28; Wilson Ct (hooking), 13:57; Newbury Ct (holding), 14:15; Harper Adk (slashing), 16:47.
2nd Period-4, Connecticut, Wilson 1 (Thomas, Klassen), 3:10. 5, Connecticut, Tessier 7 (Mashinter, Collins), 7:53. 6, Connecticut, Haley 4 (Vernace, Parlett), 10:33 (PP). 7, Adirondack, Zolnierczyk 9 (Johnston, Harper), 12:48 (PP). Penalties-Lauridsen Adk (hooking), 8:47; McIlrath Ct (roughing), 11:12; Mangene Adk (high-sticking), 15:17.
3rd Period-8, Adirondack, Bordson 4 (Zolnierczyk), 2:07 (SH). 9, Adirondack, Akeson 6 (Mangene, Syvret), 18:15 (PP). 10, Adirondack, Noebels 4 (Manning, Syvret), 19:39. Penalties-Dimmen Adk (interference), 0:53; Lauridsen Adk (hooking), 5:54; Thomas Ct (diving), 5:54; Mashinter Ct (interference), 13:05; Wiebe Ct (high-sticking), 16:52.
OT Period-11, Connecticut, Segal 11 (Vernace, Mashinter), 4:03. Penalties-No Penalties
Shots on Goal-Adirondack 11-13-14-1-39. Connecticut 13-12-5-3-33.
Power Play Opportunities-Adirondack 3 / 6; Connecticut 2 / 5.
Goalies-Adirondack, Heeter 7-11-1 (20 shots-16 saves); Boucher 1-1-0 (13 shots-11 saves). Connecticut, Missiaen 5-4-1 (39 shots-34 saves).
A-2,212
Referees-Jean Hebert (43), Mark Lemelin (41).
Linesmen-Jim Briggs (83), Kevin Redding (16).