Portland, ME, January 19, 2013 – Chad Kolarik and Kris Newbury had a goal and an assist apiece, and Jason Missiaen made 32 saves, to lead the Connecticut Whale to a 4-1 win over the Portland Pirates Saturday night at the Cumberland County Civic Center.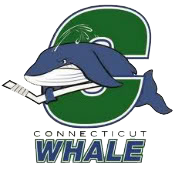 Three of the Whale's goals were on special teams, as the power play was 2/3 and Connecticut also scored a shorthander.
"Huge bounce-back game, we needed those two points, especially after the loss (Friday) night (a 4-2 defeat in Springfield), where we didn't play very well," Kolarik said. "We showed a lot of emotion tonight and we worked their defensemen down low, and the two power-play goals were huge for us, to get the power play going is good."
The Whale started slowly in the game, as Portland got 11 of the first 13 shots, and the Pirates got on the scoreboard first at 8:49 of the opening period.
Brett Hextall fed a pass across the slot to Ethan Werek on the right-wing side, and Werek was able to cut in and put a shot over Missiaen's stick-side shoulder.
The Whale replied on their first power play of the game at 13:38, as Newbury scored his fifth goal in three games. Kolarik sent Newbury down the left side with a pass, and Newbury sent a perfectly-placed snapshot into the top corner on Pirate netminder Mark Visentin's catching-glove side.
Connecticut then took its first lead of the game 1:21 into the second period, scoring on a four-on-three power-play.
Logan Pyett sent a feed from the blue line to Newbury, stationed in the right-wing circle, and Newbury one-touched it to the front of the net to Kolarik, who deflected it perfectly through Visentin (21 saves). The goal was Kolarik's team-high 16th of the season.
Shayne Wiebe scored his first career AHL goal, a shorthander, at 4:32 of the third period to make it a 3-1 Whale lead. A Portland pass got through defenseman Michael Stone near the blue line, and Wiebe beat Visentin to it at the bottom of the left faceoff circle and flicked it into the far side of the net.
The shorthanded goal was the Whale's third in two games in Portland on the week, as the Connecticut penalty-kill scored twice in a 6-1 win over the Pirates on Tuesday night.
Kelsey Tessier completed the scoring at 8:26, finishing a partial breakaway with a move to the backhand after taking a long feed from Blake Parlett.
The Whale are back in action Sunday, traveling to Providence for a 3:05 PM game against the Bruins. All of the action of that game can be heard live on "Beethoven Radio" AM 1290 and on-line at www.ctwhale.com. Video streaming is available at www.ahllive.com.
Sunday's game is the last of six straight on the road for the Whale, who will start a run of six straight and ten out of 12 at home this Wednesday, January 23, with a 7:00 game against the Adirondack Phantoms at the XL Center. For that and all Whale home games, tickets start as low as $10 each ($12 each when tickets are purchased on the day of the game), at the Public Power Ticket Office at the XL Center, through TicketMaster Charge-by-Phone at 1-800-745-3000 and on-line at www.ticketmaster.com.
To continue reading, please click on the continue reading button below if you're on the home page.
Connecticut Whale 4 at Portland Pirates 1
Saturday, January 19, 2013 – Cumberland County Civic Center
Connecticut 1 1 2 – 4
Portland 1 0 0 – 1
1st Period-1, Portland, Werek 7 (Hextall, Dziurzynski), 8:49. 2, Connecticut, Newbury 15 (Kolarik, Parlett), 13:38 (PP). Penalties-Klassen Ct (boarding), 1:23; Newbury Ct (cross-checking), 5:01; Parlett Ct (elbowing), 5:01; Szwarz Por (goaltender interference), 11:59; Mashinter Ct (roughing), 20:00; Klinkhammer Por (cross-checking), 20:00.
2nd Period-3, Connecticut, Kolarik 16 (Newbury, Pyett), 1:21 (PP). Penalties-Conner Por (tripping), 0:40; McIlrath Ct (tripping), 2:49; Pyett Ct (interference), 12:26; Mashinter Ct (fighting), 16:08; Brown Por (fighting), 16:08.
3rd Period-4, Connecticut, Wiebe 1 4:32 (SH). 5, Connecticut, Tessier 6 (Parlett, Pyett), 8:26. Penalties-Haley Ct (boarding), 0:45; Parlett Ct (kneeing), 3:27; Shinnimin Por (boarding), 4:53; McIlrath Ct (roughing), 14:58; Hextall Por (roughing), 14:58.
Shots on Goal-Connecticut 8-10-7-25. Portland 13-9-11-33.
Power Play Opportunities-Connecticut 2 / 3; Portland 0 / 7.
Goalies-Connecticut, Missiaen 4-3-1 (33 shots-32 saves). Portland, Visentin 9-8-1 (25 shots-21 saves).
A-6,944
Referees-Dave Lewis (46).
Linesmen-Joe Andrews (32), Landon Bathe (80).