Hershey, PA, January 13, 2013 – A poor first period doomed the Connecticut Whale Sunday at Giant Center, as the Hershey Bears scored four times in the first en route to a 5-0 win.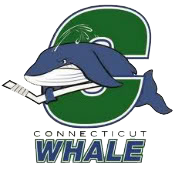 The result gave the Bears a sweep of a two-game series in Hershey with the Whale, whom they bested 4-3 in a shootout Friday night.
Barry Almeida led the way for Hershey Sunday with a goal and two assists, and former Whale defenseman Tomas Kundratek had a goal and an assist. Dany Sabourin (four saves) and Philipp Grubauer (23 saves) shared the shutout in net.
The first period was nightmarish for the Whale, as they were outshot 17-4 and gave up three power-play goals.
The onslaught started just 42 seconds in, when Almeida beat Whale goaltender Cam Talbot (26 saves) with a shot from the top of the right-wing circle. That came with Hershey's Garrett Mitchell down on the ice in the opposite corner and apparently injured, after coming together with the Whale's Dylan McIlrath.
Kundratek made it 2-0 on a five-on-three man-advantage at 11:58. The ex-Whale defenseman blasted a shot from the left circle past Talbot, off a pass from Zach Hamill.
South Windsor, CT-raised Jon DiSalvatore then scored on a backhander from the slot on another power play at 15:39, after taking a pass from Ryan Potulny.
Tom Poti, the 13th-year pro and former New York Ranger, playing his first career minor-pro game on a conditioning assignment from Washington, scored a third Bear power-play goal at 18:51. Sneaking down from the left point, Poti got two whacks at the puck in front of the goal after Almeida centered it, and was able to put it past Talbot on the second effort.
The Whale picked up their play considerably in the second period, outshooting the Bears 12-9 despite being shorthanded three more times, but could not cut into the Hershey lead on relief goaltender Grubauer, who replaced injured starter Sabourin at the start of the second.
Despite being outshot 11-5 in the third period, Hershey scored the only goal of the frame, when Mitchell beat Talbot to the short side with a backhander at 10:25, after being set up by Almeida.
The loss dropped the Whale to 15-18-3-1 on the year and snapped a streak of four straight games (2-0-1-1) with at least a standings point.
The Whale are next in action this Tuesday night, January 15, when they travel to Portland for a 7:00 game against the Pirates. All of the action of that game can be heard live on "Beethoven Radio" AM 1290 and on-line at www.ctwhale.com. Video streaming is available at www.ahllive.com.
The Whale's next home game is Wednesday, January 23, a 7:00 game against the Adirondack Phantoms. For that and all Whale home games, tickets start as low as $10 each ($12 each when tickets are purchased on the day of the game), at the Public Power Ticket Office at the XL Center, through TicketMaster Charge-by-Phone at 1-800-745-3000 and on-line at www.ticketmaster.com.
To continue reading, please click on the continue reading button below if you're on the home page.
Connecticut Whale 0 at Hershey Bears 5
Sunday, January 13, 2013 – Giant Center
Connecticut 0 0 0 – 0
Hershey 4 0 1 – 5
1st Period-1, Hershey, Almeida 3 0:42. 2, Hershey, Kundratek 12 (Hamill, Potulny), 11:58 (PP). 3, Hershey, DiSalvatore 11 (Potulny, Kundratek), 15:39 (PP). 4, Hershey, Poti 1 (Almeida, Sjogren), 18:51 (PP). Penalties-Sjogren Her (holding), 2:49; Oleksy Her (delay of game), 3:48; Klassen Ct (high-sticking), 11:00; Segal Ct (high-sticking), 11:31; Kolarik Ct (misconduct – unsportsmanlike conduct), 12:41; Stoa Her (misconduct – unsportsmanlike conduct), 12:41; McIlrath Ct (kneeing), 13:52; Haley Ct (boarding), 18:38.
2nd Period- No Scoring. Penalties-Segal Ct (tripping), 1:23; Collins Ct (slashing), 5:28; Kalinski Her (roughing), 11:28; Tessier Ct (tripping), 13:44.
3rd Period-5, Hershey, Mitchell 9 (Almeida, Kalinski), 10:25. Penalties-Marshall Her (closing hand on puck), 0:56; Yogan Ct (bench minor – too many men), 7:39; Parlett Ct (roughing), 10:51.
Shots on Goal-Connecticut 4-12-11-27. Hershey 17-9-5-31.
Power Play Opportunities-Connecticut 0 / 4; Hershey 3 / 9.
Goalies-Connecticut, Talbot 12-16-0 (31 shots-26 saves). Hershey, Sabourin 6-5-0 (4 shots-4 saves); Grubauer 1-1-0 (23 shots-23 saves).
A-10,452
Referees-Dave Lewis (46), Darcy Burchell (42).
Linesmen-Jud Ritter (34), Scott Pomento (25).
Follow Ian on Twitter @soxanddawgs. And be sure to like us on Facebook as well.