Hershey, PA, January 12, 2013 – The Connecticut Whale gained a standings point for the fourth straight game (2-0-1-1) Saturday night at Giant Center, but lost 4-3 in a shootout to the Hershey Bears.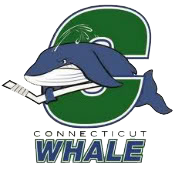 The Whale outshot Hershey 36-23 in the game, including 26-11 in the first two periods, but trailed 2-1 heading into the third before coming back to get the point.
Kelsey Tessier scored in the third period for the Whale, and Chad Kolarik had a shorthanded goal, but a Zach Hamill power-play tally wiped out a short-lived 3-2 Connecticut lead.
"In large part, I thought we outchanced them, but I don't know that we brought our best team game for the entirety of the game," Whale head coach Ken Gernander said. It's good that we came back, but ideally I'd like to have seen us press the issue a little bit harder in the first two periods."
The Whale outshot the Bears 13-6 in a first period that was scoreless except for a 28-second span in which the team traded goals.
Kyle Jean gave the Whale a brief lead at 17:07 with his eighth goal of the year and third in the last two games. Jean, who scored both Whale goals in a 2-0 home win over Wilkes-Barre/Scranton on Sunday, took a feed from Andrew Yogan, just back up to the Whale from Greenville of the ECHL, got around Hershey defenseman Steve Oleksy on left wing and then put a backhander past Bear goaltender Philipp Grubauer.
Garrett Mitchell got that goal right back for Hershey at 17:35, forcing a shot from the bottom of the right circle through Whale netminder Jason Missiaen, who got his first AHL shutout with 35 saves in Sunday's win.
The Bears then struck again on the first shift of the second period, and this time it was Mitchell finding Jonathan Kalinski for Kalinski's first goal of the season. That was on a shot from just below the left-wing faceoff dot past Missiaen's catching glove, and that goal would be the only scoring of the second, despite the Whale having a 13-5 shots edge.
Tessier tied the game at 11:56 of the third with his fourth goal of the year, a tip-in of a Logan Pyett shot from near the blue line. Then, after Kris Newbury was penalized for cross-checking at 13:18, Kolarik increased his team-leading goal total to 15 with his second shorthander of the season at 13:50. Grubauer, making only his second AHL appearance of the year, stopped Kolarik's first attempt with his pads, but Kolarik fought off Stafford to get to the rebound and snapped it in.
Just 54 seconds later, though, at 14:44, with Newbury still in the box, Hamill gunned a shot from the left faceoff dot past Missiaen to create a 3-3 tie that carried through to overtime.
After a scoreless OT, Stafford and Stan Galiev scored shootout goals for the Bears, and Kolarik was the only one of five Whale shooters to score on Grubauer, giving Hershey the two points.
The Whale and Bears battle again Sunday at Giant Center, in the Whale's second of six straight road games, facing off at 5:00 PM. All of the action of that game can be heard live on "Beethoven Radio" AM 1290 and on-line at www.ctwhale.com. Video streaming is available at www.ahllive.com.
The Whale's next home game is Wednesday, January 23, a 7:00 game against the Adirondack Phantoms. For that and all Whale home games, tickets start as low as $10 each ($12 each when tickets are purchased on the day of the game), at the Public Power Ticket Office at the XL Center, through TicketMaster Charge-by-Phone at 1-800-745-3000 and on-line at www.ticketmaster.com.
To continue reading, please click on the continue reading button below if you're on the home page.
Connecticut Whale 3 at Hershey Bears 4 (SO)
Saturday, January 12, 2013 – Giant Center
Connecticut 1 0 2 0 – 3
Hershey 1 1 1 0 – 4
1st Period-1, Connecticut, Jean 8 (Yogan, Pyett), 17:07. 2, Hershey, Mitchell 8 (Almeida, Kalinski), 17:35. Penalties-Marshall Her (holding the stick), 8:24.
2nd Period-3, Hershey, Kalinski 1 (Almeida, Mitchell), 0:17. Penalties-Kane Her (tripping), 12:06; Parlett Ct (holding), 14:31.
3rd Period-4, Connecticut, Tessier 4 (Pyett, Grant), 11:56. 5, Connecticut, Kolarik 15 (Vernace), 13:50 (SH). 6, Hershey, Hamill 11 (Kundratek, McNeill), 14:44 (PP). Penalties-Yogan Ct (hooking), 7:31; Parlett Ct (cross-checking), 8:25; Newbury Ct (cross-checking), 13:18.
OT Period- No Scoring. Penalties-No Penalties
Shootout – Connecticut 1 (Miller NG, Kolarik G, Newbury NG, Thomas NG, Jean NG), Hershey 2 (Mitchell NG, Stafford G, Kundratek NG, Galiev G).
Shots on Goal-Connecticut 13-13-7-2-0-35. Hershey 6-5-10-1-1-23.
Power Play Opportunities-Connecticut 0 / 2; Hershey 1 / 4.
Goalies-Connecticut, Missiaen 3-3-1 (22 shots-19 saves). Hershey, Grubauer 1-1-0 (35 shots-32 saves).
A-10,409
Referees-Graham Skilliter (48).
Linesmen-Bob Goodman (90), Jud Ritter (34).
Follow Ian on Twitter @soxanddawgs. And be sure to like us on Facebook as well.