By Bob Crawford
The stat sheet from Sunday's 10-2 loss to Springfield was one that the Connecticut Whale coaches probably wanted to burn and never look at again, but there was one positive on the Whale side.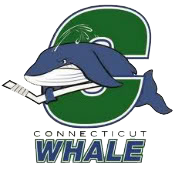 That was next to the name of defenseman Sam Klassen, who was +1 in the game, the only player on the Whale team who ended the night on the plus side.
It wasn't like Klassen was nailed to the bench, either. He played a regular shift, and was not on the ice for any of the Falcons' 10 goals.
The second-year pro did not take any solace from that stat, though.
"I'm not going to comment much on that," Klassen said Thursday after the Whale's practice at Champions Skating Center in Cromwell, CT. "It was a team loss, and we've got to respond from Sunday night."
And how do the Whale, as a group, go about responding to that ugly defeat, with a rematch against the Falcons looming Friday night in Springfield?
"You learn from that game," Klassen said, "and you take that feeling, that embarrassing feeling, from Sunday night's game and you bring it into the week of practices, and you work that much harder and make sure that doesn't happen again.
"We definitely focused on our systems, D-zone (defensive zone) systems and neutral-zone systems, and just kind of went to the board and did some X's and O's, stuff like that, for sure, but what it really comes down to is a matter of making things happen in a game. We hopefully can take these good practices that we had this week and carry them right into the weekend."
While the Whale had won four straight games going into Sunday, some danger signs had been evident in the two games immediately preceding the 10-2 meltdown. In Friday's 2-1 shootout win in Albany, Connecticut had been outshot 44-16 and needed a great performance in goal from Cam Talbot to get the two points, and in a 6-3 home victory the previous Saturday against Providence, the Whale were outshot by a margin of 40-23.
"Friday night's game, we were lucky to get those two points," said Klassen. "Cam played amazing for us, and he definitely stole the game for us. And some of those bad habits probably carried into Sunday's game, and it came back to bite us in the butt there."
On the other hand, just about all of the bounces that had been going the Whale's way in the previous two games went against them on Sunday. The Whale's goal going into this weekend is not to leave so much up to the bounce of the puck.
"Going into Friday night's game, we obviously want to be physical," Klassen said. "They've (Springfield) got some real skilled forwards up front, so the more you can by physical, the better.
"We did a lot of D-zone coverage this week, just focusing on making that first good pass and keeping things simple. The more simple they are, the easier it is."
That last sentence seems to sum up Klassen's approach to the game quite well. He is a no-frills kind of player, the type of defenseman who you know is playing well when you don't notice him. In order to progress, though, beyond where he has been his first two pro seasons, in which he has been back and forth between the Whale and the ECHL, Klassen is seeking to diversify his game somewhat.
"Something that I'm always working on is my shot," he said. "Since I'm not a very offensive D-man, it's something I'm always trying to improve, trying to jump up in the play a little more, try to get involved off the rush once in a while. But I know my strengths and my weaknesses, so you always try to improve on your weaknesses and stick to your strengths in a game."
As he looks to do that, Klassen has taken advantage of the tutelage of two different Whale assistant coaches, J.J. Daigneault and Jeff Beukeboom, who were both highly successful defensemen as pro players. Beukeboom is new to the Whale this year, after Daigneault earned an assistant-coaching job with the Montreal Canadiens this past summer, and Beukeboom has shown an approach that is slightly different, but just as helpful for Klassen's development.
"J.J.'s approach was very offensive," Klassen said. "Jeff maybe not so much, but he's always encouraging us to jump up in the play and get involved, pinching on the O-zone and getting involved in the play. So that's always something that we're trying to do."
Follow Ian on Twitter @soxanddawgs. And be sure to like us on Facebook as well.